This Week's Obsession: B1G X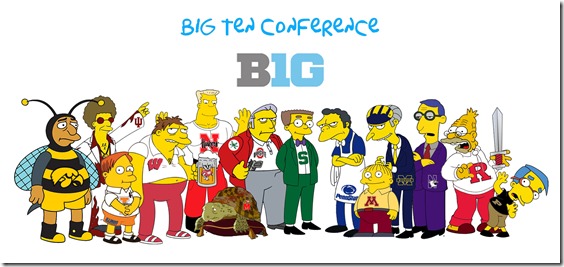 That episode where Mr. Burns had to go work for Smithers. I'm sure there is one. 
The Big Ten Championship Game and bowl selection gives us an opportunity to zoom out a little.
Who's on the up, how do next year's divisions stack up against each other for the short and long term, and what's the long term outlook for the Big Ten on a national scale (and do you care?)
Mathlete: With Michigan State's title and several preceding years of quality, they have moved into that 1B tier. Ohio State is the only team right now I would consider in the top tier. They have both the recruiting and the on field to be clearly at the top.
I wonder what Coach Dantonio thinks about "1B" status. He probably has a measured, mature response that acknowledges his schedule was kind of easy and his recruiting is lacking. [Fuller]
Joining the Spartans in 1B I would put Wisconsin. Behind them you have the good but definitely behind the top teams group. Unfortunately right now that includes Michigan along with Nebraska, Iowa. In the third group you have the chaos teams. Northwestern, Indiana, Minnesota (how did that happen), Penn State and probably Maryland are teams that had a pretty decent year last year despite another rash of injuries. That leaves Purdue, Illinois and Rutgers at the bottom tier.
So if you look at the divisions you have the East with 2 first tiers and 1 second tier team. The West would have 1 first tier and 2 second tier teams. The caveat is that the East's second tier team, Michigan, has been recruiting like a first tier and will finally have a large amount of acclaimed talent in the upper classes. If Michigan can move up to tier one, then the East is considerably more challenging.
On a national scale it's hard to see the Big Ten join the top as a group. The two paths up are recruiting and coaching and right now there is a pretty big gap between the Big Ten and the best in both. If Michigan can start playing like it's recruiting, and 1-2 teams of Michigan St/Wisconsin/Nebraska/Iowa can play at the top level each year, then that should help the profile of the conference. Three+ really good teams means you move out of ACC territory and get to where a conference champ would be in a position for 2 high quality wins. Ultimately, that's the blueprint for the Big Ten at the top as a conference, 3 high quality teams, 2 high quality wins. Without a foundational shift, the full depth isn't going to match up. But if the top 3 can, the conversation should die down.
[Just Jump.]
------------------------------------
BiSB: These things are always fluid, but it's pretty clear that holy crap the West is bad. If you line the divisions top to bottom and played them Big Ten/ACC Challenge style, the East probably wins, what, 5 of the 7 games? Maybe 6? It's easy to second-guess, but it looks like they should have put Indiana in the West and Purdue in the East.
Indiana this year looked a lot like how people remember the 2010 Michigan team, except with lower lows than the Denard-Tate offense achieved and without that half-season of only being rather bad to its credit. [Fuller]
The East is going to be a bloodbath for the foreseeable future. Obviously Ohio State is primed for continued success. If Michigan ever stops the Benjamin Button act and actually gets older, they have as much talent as any team in the conference. And Michigan State, alas, isn't going anywhere. And with the easing of the sanctions on Penn State, they might emerge from the depths sooner than anticipated. If the East was representative of the conference as a whole, the B1G would probably be seen as in that tier below the SEC along with the PAC 12. Instead, with the Tim Beckman-shaped anchor attached to its ankle, the B1G is somewhere between the Big 12 and the ACC. Any hope of the B1G challenging the top conferences in public perception (hurray, pointless ESPN First Take topic victories...) relies on Michigan becoming This is Michigan again and Penn State weathering the storm somewhat intact.
Any hope for the West being on par with the East relied on Northwestern emerging as a potential third power along with Wisconsin and Nebraska. And while the Fightin' Fitzgeraldses were astoundingly snakebitten this year, this year showed that Northwestern will probably remain an occasional contender at best. Nebraska is dysfunctional from the top down, and prospects of life after Taylor Martinez aren't particularly shiny. Iowa and Minnesota have solid ceilings, and Illinois and Purdue... yeah.
Long term, the East is pre-revolutionary France. Michigan, Michigan State, and Ohio State are the bourgeois, and Maryland, Rutgers, and Indiana are the proletariat. Penn State is the only wild card, but long term they'll probably end up suggesting Rutgers eat cake. The West is a little less fluid, with the annual Who Will Challenge Wisconsin coming from the group of Iowa, Nebraska, and Northwestern, any of whom could lose 6 conference games in any season.
------------------------------------
Ace: The Mathlete and BiSB have covered everything except the very last bit—do we care about the Big Ten's long term national outlook? To a certain extent, the obvious answer is 'yes'. A better conference reputation means a better chance of making the CoFoPoff™, better recruiting, and—perhaps the most overlooked and underrated aspect—better football to watch on Saturdays; I'm getting pretty tired of flipping to random Big Ten game, saying "why would I do this to myself?" and flipping to CBS.
(=)
/emoticon'd
On the other hand, the playoff allows for a little more leeway in terms of national title aspirations. As long as the Big Ten remains somewhere in that murky second tier (the SEC being the first tier) with the Pac-12, Big 12, and ACC, any undefeated conference champ is going to make the playoff, and more often than not a strong one-loss champ will, too. The conference, by historical standards, has pretty much bottomed out and that's essentially the position they're in right now—Ohio State would've made the BCS title game if they'd defeated MSU, and the last one-loss conference champion (2006 OSU) made it.
In that sense, I don't really care; as long as the Big Ten doesn't deteriorate further—with Michigan expected to bounce back and Penn State potentially coming off sanctions early, this would surprise—then they're going to be fine from a national standpoint; the conference will produce a contender every year, make the playoff more often than not, and unless we're expecting to be on par with the SEC that's pretty good.
------------------------------------
Seth: A thousand dear diaries ago I made a grading system based on national FEI ranking, giving out letter grades (letters every ten, +s and -s every five), and then did the same for the recruiting classes. Using a composite of the last three (2012-2014 classes) 247's rankings, we try that again:
West
|
East
School
FEI Rk
Grade
247 Cp
|
School
FEI Rk
Grade
247 Cp
Wisconsin
13
A
C+
|
Ohio State
8
A
A+
Iowa
30
B
C
|
Michigan State
9
A
B
Minnesota
49
C
D+
|
Michigan
29
B
A+
Nebraska
51
C
B
|
Indiana
62
D+
C
Northwestern
60
C-
C
|
Penn State
65
D+
B
Illinois
75
D
C-
|
Maryland
74
D
C+
Purdue
114
F
C-
|
Rutgers
98
E-
B-
AVG
56
2.0
2.0
|
AVG
49th
2.1
3.0
In that 247 composite Ohio State was second in the country and Michigan was fourth; the next Big Ten teams were outside the top 25, FWIW. Michigan's "B" grade is the result of some high variance.
That's about how I feel: a conference baseline of "C" (ie ranked around 50th) teams with one division recruiting at a "B" level and the other "getting the most out of" C level recruiting.
Feelingsball West: A bunch of those schools have established they can field very good teams under their current coaches with Michigan State-level recruiting. Wisconsin don't care. I don't trust Minnesota's resurgence or Iowa's; both of those programs probably peak at Top-25. I think Northwestern's still on the up despite an injury-riddled nightmare of a season, and I don't know what to make of Nebraska since they're probably going to fire their coach. Illinois and Purdue are doormats for the time being.
Feelingsball East: Well once Penn State is allowed to recruit they will be better, which means Michigan has two years to either catch up to Ohio State or find themselves in a solid second tier. MSU will lose a lot of the talent on defense that made them so competitive this year; there's still a few redshirted rows of teeth behind them. Maryland and Rutgers are two more teams who recruit better than they play, which is basically the M.O. of everyone in Michigan's division except MSU.
Toussaint career rushing against Minnesota: 41 carries, 265 yards (6.2 YPC), and 4 TDs.
The rest of the field, as expressed as their teams' average GPAs:
| Conf | FEI 2013 | 247 3-yr |
| --- | --- | --- |
| SEC | 2.7 | 3.7 |
| Pac12 | 2.8 | 2.8 |
| BigXII | 2.3 | 2.5 |
| B1G | 2.0 | 2.5 |
| ACC | 2.0 | 2.4 |
| Other | 0.8 | 0.4 |
| MAC | 0.7 | 0.1 |
Ultimately I think the SEC's wow factor (top-rated recruits, national championship string) has them overrated. They're really about on par with the Pac, which doesn't change that fact that the Big Ten is nowhere near either of them.
------------------------------------
[Site goes down. Site comes back up with the pos and negs  back. We spend 38 hours pos- and neg-banging. And then…]
Brian: I do not care about the Big Ten's reputation one whit except insofar as it prevents Michigan from making CoFoPoff, and Michigan first has to be not horrible to get there. That's a distant concern, and if Michigan does actually win the Big Ten that means they'll have beaten OSU and the championship game to close the year after playing a decent three-game nonconference schedule. That team doesn't get left out in many circumstances. Michigan will lose all ties to the SEC, but that ship sailed when Delany wrote his letter.
Dear rest of NCAA: Due to our strong traditions we demand you take our conference srsly.
Meanwhile, the Big Ten's reputation isn't going to get any better now that they're adding a team that did in fact lose to UConn and can't seem to hire one damned coach, administrator, or athletic director who hasn't waterboarded not only their players but random passers-by who looked at 'em funny. AND something called Maryland, which may have beaten UConn but also lost to Wake Forest. Lost to Wake Forest 34-10. Michigan gets both of those schedule anchors every year, along with Indiana, but people are dumb and will look at ohhh shiny OSU win (hypothetical).
In the conference, the west is going to be a sack of cats that will cough up a nearly-random hairball into the championship game annually. You have to give Wisconsin the edge here, as they just weathered a coaching change without much difficulty and probably upgraded in the process. They've got a proven winner in adverse circumstances at HC, a redshirt/wait/destroy regime in place that apparently nothing can overturn, and a perpetual Chris Borland machine somewhere in Green Bay that we need to hijack. But they are always vulnerable because they don't have recruiting might and any or all of their competitors except Purdue could put a stick in their eye. Yes, even Illinois after Illinois fires Tim Beckman.
On Michigan's side of the ledger, they are the third banana at this instant, hoping that Hoke's recruiting and retention gets them to the point where they can be on par with... oh for pant's sake. Cruel fate, why do you mock me? Screw you guys, I'm going home.