Original Sin
11/18/2017 – Michigan 10, Wisconsin 24 – 8-3, 5-3 Big Ten
[Bryan Fuller]
In the aftermath of a good thing that turned bad, or vice-versa, there's always the attempt to say This Was The Moment. Most of the time this is just ad-hoc narrative placement; obligatory XKCD link goes here. Not so Saturday. Anyone attempting to slap a big ol' narrative on Michigan-Wisconsin couldn't help but land on Brandon Peters lying on the turf, and the team-wide deflation that took place immediately afterwards. And... yessir. You are correct.
Wisconsin's offense had just emerged from a deep and restful slumber to go up 14-10 thanks to consecutive third and long conversions, one a 51-yard slot fade at a guy who was Not Lavert Hill, the other a slick double post route that Alex Hornibrook executed on. Before that the Wisconsin offense looked like any other Big Ten outfit beset with a quarterback trying to find out how many limbs he had. The Badgers had eight drives; they had four first downs*.
Maybe if Michigan was still up because the replay official was any average person on the internet capable of deciphering a still frame...
@LGhail hmmmmmmmmm. Looks like left foot is down.. pic.twitter.com/y7Cyy6VBcX

— Brandon Skibbe (@BrandonSkibbe) November 18, 2017
...or a two-hand shove in the back to Ambry Thomas was called on a freak punt return TD, the defense would have held together better. As it was, being down four points with the dead certainty in your heart that you will not score is an invitation to crack. We saw that many times under Brady Hoke, the valiant three quarters undone by an exhausted and spiritless fourth. That and a quarterback assaulted to the point where he could not continue.
-----------------------------
Michigan's not real good this year for a variety of reasons. Foremost amongst them is pass protection even Devin Gardner thinks is bad. Michigan is down two quarterbacks headed into the Ohio State game, which is bad even for a program that can't get their QB to the final week without some Spinal Tap drummer business befalling him. This is the original sin of the Michigan offense.
Some of the things that happen are relatively explicable: freshman Cesar Ruiz screws up in his first start; Mason Cole occasionally proves he's not an NFL left tackle; a running back gets run over. What takes Michigan from mediocre to awful is the inexplicable stuff.
Michigan's pass protection has often been absurd this year, what with gentlemen going entirely unblocked on any sort of stunt, or not-stunt. This reached its apex on third and six in the first half when Garrett Dooley, an outside linebacker who entered the game with a team-leading 6.5 sacks, lined up clearly intending to rush and ran directly at Brandon Peters for a thunder-sack. Juwann Bushell-Beatty was the nearest OL; he was blocking another dude. Cesar Ruiz, a gap further inside, also had a rusher. Chris Evans went in a route immediately. Patrick Kugler ended up blocking nobody.
There were two other instances of horrendous pass protection that saw Michigan fail to handle a stunt. On one Karan Higdon chopped a guy ably; Kugler left his man to also block that guy. That resulted in a chop-block call. Meanwhile, Kugler's guy ran up the middle and sacked Peters. The Peters injury was another stunt on which Kugler was the most obvious culprit.
Kugler might be a major issue. That's certainly the nicest way to interpret Michigan's pass protection issues since he's gone next year, and anything that's the nicest way to think about a problem should be interrogated thoroughly. But I don't remember things like this happening last year, when Mason Cole was at center. Kugler hasn't been physically overmatched—he generally grades out okay to well in UFR—so the most obvious reason he hasn't been able to get on the field until year five is an inability hack it mentally. I wonder if Michigan would stick with Cole at center and whatever may come at tackle if they had a do-over.
Probably not if the second best tackle on the roster is then Nolan Ulizio.
There are two ways to proceed from here. One is to point out the colossal failure of Brady Hoke's offensive line recruiting and the Grant Newsome injury, which is currently in its second year. Michigan had barely enough dudes to field a good OL and a cliff after, and then the least replaceable guy went out, etc.
The other is to point at a fifth-year senior at center who's organizing one of America's very worst pass protection units and wonder why Tim Drevno and company couldn't field, like, the #80 pass pro unit with a bunch of highly touted four stars. This line of questioning will pause briefly to note the total lack of tackles in the 2015 class after Swenson was booted and Hamilton flipped to Stanford. It will also cherry-pick random freshmen or backups from the history of college football who weren't total disasters.
The latter take is way more likely to @ you, or call a radio station to declare something UNACCEPTABLE, but it's correct. (Ish.) So is the calmer take. Both are correct except insofar as they ignore the correctness of the other half of the equation. Michigan was unprepared to block this season, and that's because they aren't the kind of program that just reloads everywhere. Part of that is having your six-man class of would-be redshirt seniors whittled down to one guy who might not be very good, and part of that is that Michigan's reloading with Rashan Gary on defense and Nolan Ulizio on offense.
We'll see what happens next year. I don't have enough information to start yelling about it. I do have enough to approach the game this weekend with zero expectations other than pain. That's all too familiar, but whatever.
*[I am counting the drive right before the half since it started with 2:20 on the clock.]
AWARDS
[Patrick Barron]
Known Friends And Trusted Agents Of The Week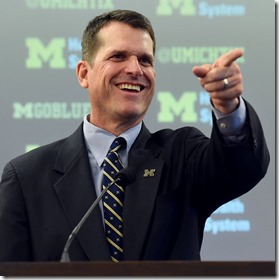 you're the man now, dog
#1 Mo Hurst. I am pretty sure that the long run was on the other DT, not Hurst, which means that Hurst was a major force in the middle without much to blame as Michigan throttled the Wisconsin offense almost wholly until a late fade.
#2(T) Chase Winovich and Rashan Gary. See above: Gary was regularly tackled by his opponent but still got drive and sent backs elsewhere; Winovich had two TFLs against a Wisconsin O that rarely gives them up. This is a point split here because I want it to be. The points are made up and don't matter.
#3 Donovan Peoples-Jones. Four catches for 64 yards and one should-have-been touchdown on which he did (barely) get his left foot down first. Translating from Michigan offense to normal offense, that's approximately 300 yards and six touchdowns.
Honorable mention: Devin Bush had a Default Hornibrook Interception; though Aubrey Solomon had a solid day early but may have faded late. Long and Watson were all over the UW receivers; Metellus and Kinnel both got called for some garbage PI calls but were in excellent coverage otherwise.
KFaTAotW Standings.
8: Devin Bush (#1 Florida, T2 Cincinnati, T2 Air Force, #1 Purdue), Mo Hurst (#1 MSU, #2(T), Indiana, #1 Wisconsin).   
7: Karan Higdon (#1 Indiana, #2 PSU, T2 Minnesota).
6: Mason Cole (#1 Cincinnati, T2 Rutgers, T3 Minnesota), Chase Winovich(#1 Air Force, #2a Purdue, T2 Wisconsin), Rashan Gary(T2 Indiana, #1 Rutgers, T2 Wisconsin).   
5: Khaleke Hudson (T2 Cincinnati, #3 PSU, #1 Minnesota), David Long (T3 Indiana, #1 PSU, #3 Maryland)    
4: Chris Evans(T2 Minnesota, #2 Maryland).   
3: Ty Isaac (#2, Florida, #3 Cincinnati), Lavert Hill(#2 MSU, T3 Indiana)), Josh Metellus (#1 Maryland).   
2: Quinn Nordin (#3 Florida, #3 Air Force), John O'Korn (#2 Purdue), Sean McKeon(T3 Purdue, #3 Rutgers), Mike Onwenu(T2 Rutgers),
1: Tyree Kinnel (T2 Cincinnati), Mike McCray(T2 Air Force), Zach Gentry (T3 Purdue), Brad Robbins(#3 MSU), Brandon Watson (T3 Indiana), Ben Bredeson(T3 Minnesota), Donovan Peoples-Jones (#3 Wisconsin).
Who's Got It Better Than Us Of The Week
Quinn Nordin hits a field goal to put Michigan up 10-7, which momentarily feels like enough.
Honorable mention: Michigan scores a touchdown!
MARCUS HALL EPIC DOUBLE BIRD OF THE WEEK.
10-7 turns to not be enough as Jaylen Kelly-Powell is torched on a slot fade that Hornibrook slots in there. Major question why JKP was deployed there since that coverage instance was far worse than any slot fade the safeties had dealt with this year.
Honorable mention: Brandon Peters is blasted out of the game. Brandon Peters is blasted earlier.
[After THE JUMP: eat at Arby's]
OFFENSE

[Patrick Barron]
Peters was functional-ish. 9 of 18 for 157 yards is 8.7 yards an attempt, but Michigan had little faith in him until it was clear they shouldn't have any in the run game about halfway through the second. A wildcat-timeout-pitchout series of events on third and eight was frustrating.
When allowed to drop back without being immediately pressured, Peters was good-ish. His accuracy was a bit off on a couple throws, most notably a shot to McKeon in the endzone that got broken up.

big versus little [Fuller]
You'll note McKeon is on one of the hoodie brothers. Michigan split McKeon out early a few times, and I have to imagine the idea there is that he can box out the much smaller DB. So throwing to him is fine, but Peters put it over the top of both guys instead of trying to back-shoulder it, in a situation that—I assume—exists primarily to be a back-shoulder throw.
But he hit a few guys downfield and probably could have shouldered more of the load if every dropback wasn't a threat to send him to the hospital. The fumble was a bummer, and an extremely poor... something. Maybe it was just ball handling, but Peters had zero shot to get to the endzone and the extra yard or whatever he was going to get even if the scramble went well made no difference. Even so I'd call that an encouraging performance, especially given the context.
At least for next year. I can't imagine Peters will be available next week. Even if it's a concussion, which seems like the best case scenario, that seems like the kind of concussion you don't recover from in a week.
no [Fuller]
Speaking of that wildcat. What the hell, man? Lining up Chris Evans in the backfield by himself and running "wildcat" that doesn't even include the misdirection screen/sweep stuff that makes that approach even mildly functional was the best thing Michigan came up with in a month of walkovers? Michigan couldn't even get lined up on these things, which makes me think they were thrown in this week. For... reasons. What a waste of time. Someone find the wildcat enthusiast on the coaching staff and cuff them about the ears.
Someone threw it to him. Congratulations to Donovan Peoples-Jones, who finally has something to show for being hand-wavingly wide open deep all year. Previous incompletions were almost never his deal.
TJ Edwards did work. Two different power plays on which it looked like Michigan had done enough to get a solid gain went down at or near the line of scrimmage because Wisconsin ILB TJ Edwards "got skinny in the hole," per the scouting jargon, and slashed by Cesar Ruiz. I thought those plays were more indicative of an All American-level linebacker than a serious knock on Ruiz. That'll be a learning experience for him.
I haven't gone over the tape in detail yet but Michigan definitely tried to mess with the Wisconsin middle linebackers and they were having none of it. There were a couple of plays where I thought the action was different and expected some success; there was no success.
RIP the run game. I dunno, man. They got killed. Because this is the way of all promising Michigan things. Suspect that a total lack of respect for the passing game was a major factor, because DPJ was again set free on a post route without any safety help.
DEFENSE
[Fuller]
Alex Hornibrook, explained. Soooo we figured out Wisconsin's bizarre passing stats, in which a team that can't protect and throws a bunch of picks somehow comes out looking pretty good, and is awesome on passing downs. It turns out Alex Hornibrook throws into coverage constantly and is excellent at doing so. A half-dozen Wisconsin completions were seeing-eye balls that only reached the receiver after passing through the eye of a needle... and they only had nine completions. The two completions on their first TD drive are the only ones I can remember where a receiver achieved any separation. The rest of the day it was the above, where you couldn't even get slightly mad at Michigan's coverage.
[Barron]
Help? No? No. Wisconsin's run game did almost nothing until after the Peters injury, and then they got thunked, first on a long run by Jonathan Taylor and then more steadily as their light dimmed. It still boggles the mind that Taylor averaged 7 yards a carry. That is not at all what that game felt like. It's mostly just the one long run; Wisconsin only had 2.6 line yards a carry.
SPECIAL TEAMS
DPJ is not suited to return punts maybe? Peoples-Jones had a few opportunities to return punts that looked initially promising, but his tendency to dance and lack of insta-quicks saw those fail to amount to anything. Peoples-Jones is obviously a very fast person but seems better suited to kickoffs, where that's almost all that matters, than a punt return where being able to juke a guy in a phonebooth is almost a requirement to do anything.
Yes, I know he had a TD early in the year. I still think Eddie McDoom or Chris Evans or Ambry Thomas would be a better option back there.
A field goal: made. Barely, but it counts!
MISCELLANEOUS
A hearty thanks to everyone who just goes about their lives after a bad game. There are so many more of you than it seems like, because you're drinking and playing Mario Kart or making a casserole or fighting the mighty Gronthar. You are not replying to a Huge tweet and tagging half the Michigan beat. Hey buddy, if I wanted to hear the opinion of a Huge caller I'd listen to Huge.
The GAME THEORY. Michigan drove to the Wisconsin 41 and punted on fourth and six. I was more or less fine with this, and the thunder-sack on third and six on the next drive rather drove the point home. This was destined to be a rock fight, and when you're in a 1950s game you can make 1950s decisions. Fourth and three, I'm listening, but fourth and six is an expectation of success low enough that I'd rather have the field position.
HERE
Worst: Piping Hot Takes

No fanbase handles losses particularly well, and Michigan is no different. Usually after a loss like this, you'll maybe get some high-profile knuckleheads chiming in with inane comments, a whole slew of naysayers with the pitchforks and the memes (10 years without a road win against a ranked team! was the new one this week) aplenty, and a heavy dose of trollish "fans" who have super-detailed opinions about the quality of the Nike uniforms and how often they've beaten their rivals but couldn't name more than 3 starters on the team. It's the nature of the beast, and Michigan being one of the most prominent programs in country, you'll get a surplus of them.

And I'd love to say it's best to ignore these voices, not because every negative opinion should be treated as invalid, but because they tend to be lazy and without anything meaningful behind them beyond stunted anger. Braylon Edwards questioning why John O'Korn got a scholarship is just him being an asshole; his attempts to walk it back were about as lame as you'd expect from someone claiming "Wtf approved his scholarship and transfer????????" was cogent college football analysis. Of course, he's also one of the few Wolverines I've seen with his own detailed "Legal Issues" entry in his Wikipedia bio, so perhaps none of this should have been a surprise.
The season, a discussion, in two parts. Part the first:
Is a successful season more like a fine wine or an S&P ranking?

~~Chuck says, "The answer is always wine."~~

I was initially surprised by responses claiming that season success is an inherently subjective matter. User ChiBlueBoy summarized:

"I also appreciate trying to put some numbers to something that will always be subjective (in Jr. High I created a mathematical formula to determine if someone was "attractive," so the desire to quantify the subjective resonates with me)."

My first reaction was to scoff at this comparison. Perhaps only because I had spent a decent chunk of time making the scoring metric, but I viewed the idea as more like S&P and trying to make objective measures of a team's offense and defense. Just like it is valid to say that a running play is objectively "successful" if it gets at least 4-5 yards on first down, it is valid to say that objective components of a "successful" season include beating our rivals and winning the Big Ten title.
And part the second. A history of coin flips against Ohio State. Spoiler: there is something wrong with the coin. The bowl picture points towards San Diego. And probably Arizona, if bowl people care more about ratings than MGoJen's feelings.
ELSEWHERE
I barely want to read my take from this game, but here's a Japanese game show!
can someone explain why japanese game show 'slippery stairs' hasn't made its way to our part of the world yet pic.twitter.com/cd1BHvvoKl

— juan (@juanbuis) November 20, 2017
Japan! What a good country! Although there is definitely someone @ing a Japanese guy about the unacceptable performance of the guy in orange!