I Have Already Forgotten This Game
11/11/2017 – Michigan 35, Maryland 10 – 8-2, 5-2 Big Ten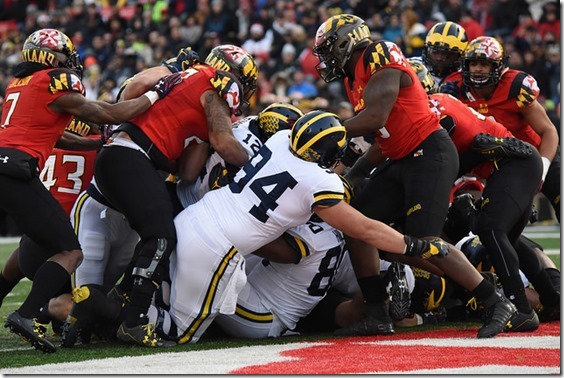 something happened somewhere [Paul Sherman]
Details from Michigan's most recent football game are impossible to remember. I have literally just rewatched the game and written much about the specifics of what occurred below, but if you asked me right now what happened in the 2017 Maryland game I would start with "uh..." and maybe get to "I think we blocked a punt" before screaming "oh god what is that?!" and running away. My memory of last year's game against Maryland is vague annoyance at tunnel screens; the year before that Ty Isaac fumbled a couple times and there was a cool screen to Jake Butt. All other knowledge requires a lookup.
So too this season, which has featured two very memorable losses and a gray sea of immediately forgotten three-score-plus wins over bad teams. Per this site's preferred fancystat, S&P+, Michigan's best win this year is over #38 Purdue*. Indiana is next at #62, and then it's a bunch of teams 80th or worse. Marquee Nonconference Opponent Florida entered the weekend 103rd. Next week they will play Florida State for the Spiritual Apple Cup.
Mentioning Indiana just reminded me that Michigan went to overtime with the Hoosiers, which I had forgotten.
---------------------------
There was a mild hue and cry when Michigan was left out of the first cofopoff rankings of the season, well behind any other two-loss major conference team. But it was mild, because one glance at the schedule is sufficient to confirm the suspicion that Michigan hasn't actually done anything this season.
It's not their fault that Florida was until recently led by a man who had to leave the room when that Left Shark thing was going on. It's not their fault that usually decent-to-good programs like Cincinnati and Air Force have cratered this season. It's not their fault that Jim Delany added Rutgers and Maryland to the Big Ten, or that Minnesota and Purdue are two of their three crossover games. But when your best scalp is "moderately feisty 4-6 team"... I mean, don't be surprised when you aren't invited to the college football prom.
Michigan now has an opportunity to change that, with two top-ten teams to close the regular season. Wisconsin is this year's ultimate Ain't Played Nobody Team; their top S&P+ opponent is... Florida Atlantic, which is admittedly higher than Purdue in those ranking at #24. Their second best win is a virtual tossup between enigmatic Iowa and... yep, Purdue. Ohio State looks invincible some of the time, and some of the time they lose to Iowa by 31.
So it's possible. Michigan is a deeply flawed team currently on their third quarterback and second right tackle. They can't pass protect. They can't make a field goal of late. They can run a bit, and can throttle most opposing offenses. They've had three straight games in which they run out to a big lead and nurse it home with stuff they've already put on film; by this point the tendency-breaking whizbang stuff must be piled box upon box in the fireworks warehouse.
This would be a good time to see what they look like against #15. They've got S&P+s #3 and #1 teams on the docket, and that looks like a tough road to take. Even if you're skeptical of the number people on the computers, Vegas didn't see this weekend's game much differently. They installed Wisconsin as more than a touchdown favorite.
But there's no other choice if Michigan wants this season to be something other than a gray expanse pockmarked with the occasional depressing defeat. Which is fine, to some extent, since virtually the whole team returns next year. The howling of the radio Petes will be annoyingly shrill, though.
*[Numbers don't yet take this weekend's games into account, but when they do the gist will be the same.]
AWARDS
one point for mutumbo finger wag [Sherman]
Known Friends And Trusted Agents Of The Week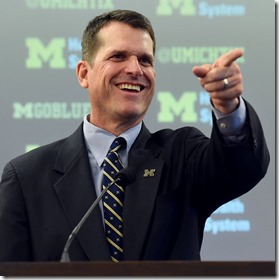 you're the man now, dog
#1 Josh Metellus. Metellus blocked a punt, had multiple instances of excellent coverage as yet another team tried to exploit Michigan safeties' man coverage, and regularly flashed into the screen to shut down outside runs for minimal gain. 
#2 Chris Evans. 109 yards on just 17 touches, and many of those required Evans to dodge a tackle before he could get going. Should have had a bit more but Peters didn't see him on a mesh route that he was wide open on. Find this man in space.
#3 David Long. An interception with an 80 yard return and, with Hill going out, the lion's share of the work as Michigan held DJ Moore well under season averages. Also had another nice PBU.
Honorable mention: Mo Hurst does Mo Hurst things; Devin Bush was the main guy on the failed fake punt and did work on the incessant screens; Tyree Kinnel was forced into a lot of tackles and didn't miss any; Karan Higdon broke a big play from nothing and was generally effective; Zach Gentry had his most productive day as a WR.
KFaTAotW Standings.
8: Devin Bush (#1 Florida, T2 Cincinnati, T2 Air Force, #1 Purdue)
7: Karan Higdon (#1 Indiana, #2 PSU, T2 Minnesota).
6: Mason Cole (#1 Cincinnati, T2 Rutgers, T3 Minnesota).
5: Chase Winovich(#1 Air Force, #2a Purdue), Mo Hurst (#1 MSU, #2(T), Indiana), Rashan Gary(T2 Indiana, #1 Rutgers), Khaleke Hudson (T2 Cincinnati, #3 PSU, #1 Minnesota), David Long (T3 Indiana, #1 PSU, #3 Maryland)    
4: Chris Evans(T2 Minnesota, #2 Maryland).   
3: Ty Isaac (#2, Florida, #3 Cincinnati), Lavert Hill(#2 MSU, T3 Indiana)), Josh Metellus (#1 Maryland).   
2: Quinn Nordin (#3 Florida, #3 Air Force), John O'Korn (#2 Purdue), Sean McKeon(T3 Purdue, #3 Rutgers), Mike Onwenu(T2 Rutgers),
1: Tyree Kinnel (T2 Cincinnati), Mike McCray(T2 Air Force), Zach Gentry (T3 Purdue), Brad Robbins(#3 MSU), Brandon Watson (T3 Indiana), Ben Bredeson(T3 Minnesota).
Who's Got It Better Than Us Of The Week
Michigan's motion discombobulates the Maryland defense so badly that Michigan gets an easy 30-yard pitch and catch TD that puts them up 21-0 and more or less ends the competitive section of the game.
Touchdown, Michigan!
Brandon Peters hits Zach Gentry for a 33-yard score with 11:21 left in the second quarter. Michigan leads Maryland, 21-0. pic.twitter.com/1aOJZDink3

— Evan Petzold (@EvanPetzold) November 11, 2017
Honorable mention: Metellus blocks a punt; Maryland tries a fake punt that goes Poorly; Higdon rips off a huge catch-and-run with a GET ORF ME stiffarm; Evans seals the game with a nifty inside zone run. Other things? I feel that other things did happen in this game.
MARCUS HALL EPIC DOUBLE BIRD OF THE WEEK.
Quinn Nordin misses a field goal of less than 40 yards, which officially puts us on #collegekickers watch after it went so well early in the season.
Honorable mention: Maryland has a touchdown drive. Michigan's third quarter features a lot of three and outs and not many yards. Peters misses a very open DPJ for a touchdown.
[After THE JUMP: hero-type substances on the half-shell]
OFFENSE
Obligatory Peters eval. He looked functional, but not win-a-tough-road-game functional. He had some misfortune early when a couple of obvious pass interference calls went unmade, and he had a couple of misses—DPJ is getting openly frustrated that nobody can hit him when he's got a step or two on a post route. He did not throw into coverage and generally made good reads.
An early waggle looked like a bad throw and a bad decision but on replay it was clear that Peters had no short option and a throw behind a deeper TE was also a throw away from excellent Maryland coverage. That could be luck or purpose. A later PA on third and two—Q: why?—saw Wheatley break off a route short and Peters throw a corner, but it was third and two and the FB flat route was open because Ben Mason ran over a linebacker. That's not the time to try to fit in a debatably open corner route against cover two even if Wheatley is running that route. Similarly, Evans was wide open on a mesh play on third and three and Peters didn't see it.
To some extent all of this is fated because Peters cannot trust his pass protection, and that causes you to do things like bug out early on third and three when you've got a guy popping wide open.
easier than this looks [Sherman]
Harbauuuuuuuugh. Step by step on that free Gentry touchdown:
M lines up in an unbalanced I-form with Gentry to the boundary. Ways lines up off the LOS.
Gentry moves to the other side of the line.
Bunting moves from "FB" to TE on the other side of the line.
McKeon motions from a wing TE spot to WR.
One of the safeties moves to cover McKeon.
The LB and SAM/spacebacker over Gentry do not react like they no longer have safety help.
That was all RPS. Harbaugh was freakin' delighted afterwards, because they clearly thought they had something and it paid off.
BEEF TD. Henry Poggi's first ever touchdown was a sentimental item since he was playing near his hometown, but also: beef. Michigan had three fullbacks and seven OL in the game. Also they went tackle over with Cole next to JBB, with Spanellis next to Cole. This beef was barely necessary since Maryland left a big ol' gap in their line right where Michigan was attacking. That might be an RPS thing: Hill was away from the point of attack in a spot where he might get a dive play, and Maryland seemed to focus on stopping that.
Back to the zone. A week after Michigan had one zone play, Michigan returned to it with middling success. Michigan's line was generally able to block guys and provide a hole but the backs looked uncomfortable with it at times, missing creases with some regularity. Evans got to grips with it first on a couple of darting interior runs on Michigan's first touchdown drive, one of which featured a Maryland linebacker stunting inside in a way that should have wrecked the play, but Gentry shoved that guy all the way past Evans's gap.
something about up on tuesday? [Sherman]
On those running backs. Chris Evans had an excellent game, popping through small creases in the line and deploying his short-area quickness to get dudes grasping at air. Maryland had him dead to rights on second and goal from the five as they crashed a DE right at him; Evans downshifted and broke outside, burying himself at the one. His touchdown saw him give a subtle juke to an unblocked guy on the backside who was crashing down on him; that guy slowed and couldn't keep up when Evans resumed his flight path. On Michigan's last play, he converted a third and long with a Madden-esque back juke on a charging safety.
Higdon seemed to miss a few cuts but they were plays on which he might have turned 7 yards into 4 or 5 yards into 3, not egregious misses of chunk plays. And he bought those yards back and more with a couple of tackle-breaking excursions downfield, one on an improv dumpoff from Peters, one on a run where he broke two tackles simultaneously.
DEFENSE
[Sherman]
Screens and edge, screens and edge. No QB and no confidence you can block the opposition DL and you get the Maryland gameplan, which was the same as last year's game plan and similarly ineffective. Michigan's safeties weren't lining up eight yards deep but they were usually responsive enough to hold edge plays that didn't get crushed immediately down, sometimes to six yards and sometimes to two. Michigan also ran a number of zone looks that gave guys like Metellus an easy play when the ball came to them in the flat.
And then...
A switch flips. Maryland had a viable running game, with a number of chunk plays. Those plays:
Harrison rips off a 36 yard run late in the first half; Winovich trips as he steps on the leg of an OL and McCray is held, blatantly, right in front of the referee, and in the hole.
Brand rips off a big gain on an inverted veer keeper that cuts back; Hurst and Furbush are the guys who get creased and the LB level is flowing so hard playside that Maryland has an OL releasing who doesn't have anyone to block. Cutback seems intentional.
Another big gain on a split zone sees Solomon blown out; Bush goes the backside of the play since he's in man coverage on the TE; McCray does not scrape over the Solomon issue and Winovich can't peel back.
Winovich doesn't set the edge on a stretch and McCray gets outrun.
Was that the shortest QB Michigan's played? Like, ever? Maryland's offensive coordinator apparently told the announcing crew that Ryan Brand, while listed at 5'11", was more like 5'7" or 5'8". This is absurdly small. Surely the smallest QB Michigan has faced since leather helmets, right? I mean, look at this:
YOU WOULD LITERALLY* FIT IN MY BELLY [Sherman]
That looks like Mo Hurst trying to tackle an eighth-grader. A really, really good eighth grader.
*[figuratively]
Throwback throwback throwback. I wish I could look up stats like "most throws to the QB faced in a season." Michigan's seen it... five times? Purdue did it twice. I think someone else tried it. Maryland had a transcontinental set up for a long gain until they borked it, and later successfully executed a reverse pass to Brand. I'm not sure if it's realistic to expect a DL to see that a pass is backwards and not go in a mad pursuit dash—but maybe the backside end on these plays can be spent checking the QB without affecting much of anything.
McCray did it. Mike McCray got stuck in man coverage on a Ty Johnson wheel route and... did a great job? Yes. That is what the card says. McCray read wheel and, unlike almost every other time this has happened in the last two years, immediately took a conservative downfield angle, easily clearing the WR who was trying to pick him. I think he might have read it presnap since Johnson was a yard or two further outside than he would usually be.
Please Uche, hurt 'em. Josh Uche is working his way into the lineup on passing downs these days and provided a clear indicator why on a screen pass where he got to the QB so fast that he hit on the throw. This was actually a negative for Michigan since anything actually at the running back was likely to be intercepted by McCray; that's life. He had a second impressive rush when he bulled a tight end back into the QB on Brand's interception in the endzone.
Uche might be your leader in the McCray replacement derby at, which would be interesting since he was regarded as more of a viper sort earlier in the year. Or maybe he's just a pass rush specialist getting some time.
David Long: person who did a thing. After weeks of wondering how Michigan's cornerbacks were doing since they were always offscreen, never tested, David Long took advantage of an opportunity provided by the Michigan pass rush to turn a Maryland drive into a turnover. He was in man coverage on that play, but it was a slant so he was looking at the QB; he started falling off his man even before the throw was out since he thought Brand was looking at the corner. That was correct, and while it was unlikely be enough on a throw actually to the WR that did not transpire.
Long also had an excellent downfield PBU as he covered Moore. So did Metellus, albeit against some non-Moore WR. It was actually Lavert Hill who (should have) got hit with one in this game, when this...
...turned into a completion, at least until they overturned it. There's a lot of room to the outside there and Brand used it. This fade/corner from the slot receiver against man coverage is clearly what opposing OCs think is the weak bit of the Michigan pass D.
Interception luck doesn't have a good compound word. In addition to the two picks Michigan could have had a couple more. Bush just about undercut a drag route, and later a ball whizzed by his head on a screen; he was too focused on the running back to see the potential interception.
SPECIAL TEAMS
Punt blocked by #Michigan #Wolverines DB Josh Metellus (@NoExcuses_23) & recovered by LB Devin Gil (@devin_gil) vs #Maryland #DirtyBirds pic.twitter.com/AUKGSG4VJ1

— Sleeper Athletes (@SleeperAthletes) November 11, 2017
BLOOOOCK. Michigan's blocked punt was a little bit of brilliance from the special teams coaches. Maryland's punter is a rugby guy who rolls left. The first few punts saw Michigan fling three guys at the protectors at about where you'd expect: playside. Three guys blocked three guys and the punts got off.
On the block Michigan sent JKP off the backside. He had zero hope of ever getting there but the change in approach got inside the head of the rearmost protector, who saw a guy flashing in his peripheral vision and peeled off to block him. The second guy expects to have a buddy next to him; he does not. So Metellus dashes inside of him and wham.
That's a mental mistake, obviously, but Michigan did good work to induce it.
Kickoff issues. James Foug's first kickoff was a weird bouncer that didn't look like an intentional squib; fielded by an upback at the 15 it almost got returned for a big play. The second was a good kick, fielded by Ty Johnson at the one towards the left side of the field, but Michigan again almost got hit for a big play. Benjamin St Juste was able to peel back off a blocker and get an ankle tackle in or that could have been a touchdown.
Michigan did get a couple drives to start inside the 20 but when you have this defense and are playing a guy like Johnson it really does not seem like the risk is worth the reward.
What are you doing, Maryland punt unit? A fake on fourth and seven was... optimistic. Devin Bush read it and scraped over, absorbing a blocker intended for Hawkins. With Jaylen Kelly-Powell doing a good job to force and then come back that was comprehensively doomed.
MISCELLANEOUS
SEEMS LEGIT [Sherman]
A woof game from the referees all around. Double missed PIs on Michigan's first drive; Michigan got away with two or three clear holds; Maryland got a huge run on an obvious hold; Lavert Hill had defensive hold so flagrant that the WR literally stopped; the replay official overturned the Jacobs catch on the above-screenshotted corner route. It's not like I expect better, but it is duty to keep mentioning it.
The overturn of the catch was boggling. I'm one of the people who complains that "incontrovertible" is a bad standard and it should be 60-40; I'm also a "if the ball touches the ground at all it's not a catch" zealot. And even I thought the Maryland catch was 1) likely a catch and 2) absolutely should stand as called since there wasn't any camera angle that even approached definitive.
Injuries. Most of this game was spent in "get out of here healthy" mode; Michigan did not. Higdon missed just over a half with what looked like an ankle sprain. Harbaugh just said it "sounds like positive news" on him, at least. Lavert Hill missed most of the second half with a concussion, per Harbaugh. Long was gimpy with what looked like a cramp; Rashan Gary went out with a recurrence of the arm issue he's had a few times this year; Kinnel was limping late.
Harbaugh did just assert in his press conference that Onwenu was likely to return.
Redzone offense: not real. Via @BronzingProcess, your TD% leader in Big Ten conference play:
Michigan is 12th if you account for all games. This kind of wild in-season swing is characteristic of a stat that sucks.
Complain about the scorers, get temporary results. Chase Winovich gently complained to the media last week that he had been robbed of statistics all year. Shaken by this public callout, the box score dude gave Winovich 3 TFLs, one of which was Khaleke Hudson blitzing and tackling as Winovich helped. We yammered about this on the podcast, and sure enough: a half-TFL has been moved from Winovich to Hudson. 
I would like to shout out the Maryland band. Their rendition of the Teenage Mutant Ninja Turtles theme song is awesome and should be recognized as such.
HERE
So from a fan standpoint, it's been a blast to watch Michigan steamroll a couple of mediocre teams to this degree. But as someone who, for some illogical reason, tries to write an interesting recap of said contests each week, picking out meaningful nuance and at least a handful of semi-intelligent insights, it's been a little rough. Against Rutgers you had the "excitement" of a QB change, Brandon Peters finally getting his moment to shine. Against Minnesota there was Peters's first start, a game where the opposition knew what to expect and could have, I guess, tried to game plan for him instead of trying to cross one of Minnesota's many lakes. Against Maryland you had Michigan's first road game with Peters at the helm, but at that point we're definitely getting into Malibu Stacy's new hat territory in terms of meaningful differences. Rutgers, Minnesota, and Maryland all occupy the same basic space in college football's hierarchy; teams with enough talent to put up a fight but not nearly enough to damage a good team capable of taking a couple body blows. But this was always a four-game season, with MSU slotting into the spot we all sorta assumed Florida would have occupied, and this 3-game stretch was always a prelude to a more exciting conclusion, the Rocky montage of the 2017 season if you will.
Also more Wolverines in Japan action.
ELSEWHERE
Out of time; look for it in UV.