I Don't Hate Your Corpse Any Less And I Don't Want Store Credit
11/3/2018 – Michigan 42, Penn State 7 – 8-1, 6-0 Big Ten
The jarring thing was this: they didn't seem drunk. There were two dudes crossing Stadium at about the same time I did, and they were not drunk, and they were singing something very loud. It was a faintly familiar verse, the kind of thing that tickles the back of your brain and, if left unaddressed, leads to the kind of frantic wikipedia search that either relieves you of your memory burden or leaves you staring at a list of defenestrations, wondering which rabbit holes you'd fallen through to arrive at this place.
Fortunately(?) this was not required. The verse led into a chorus that is intimately familiar to anyone who is extremely online. It culminated, with elaborate hand gestures. It was beefy, hammy. You may already hear this in your head: "GIVE ME YOUR HEART, make it real, OR ELSE FORGET ABOUT IT."
Across the street, people booed. They were being Smooth-rolled. It seemed like they'd just parted, and this was a parting shot. As I veered off onto the side street that held my car the dudes chortled to each other, victorious.
This was not a black pit. It was… it was a brightly lit mesa of trolling your friends with Santana/Robb Thomas collaborations.
Nine weeks ago those guys were not merrily inflicting music-type substances on their friends. They were sitting in a dark basement, saying nothing, grateful that the other guy had enough damned sense to say nothing. When the moon rose the men silently, separately resolved to destroy it.
------------------------------------
Elsewhere: fulminations. Jim Harbaugh challenged a fourth down catch with three minutes left in a 42-0 game, causing the "harbaugh class" search to disgorge great heaps of rotted fish onto the internet. Penn State scored on that drive, so the camera had cause to cut to a defensive coordinator in the process of holding a ranked opponent under 200 yards for the third straight game. This is what he looked like:
He looked grim. Disappointed. 58 minutes of wholesale obliteration was not enough. Don Brown is a hater.
Don Brown keeps receipts. In the run-up to this game he and his players repeatedly mentioned Penn State running plays up 42-13 with under 40 seconds left, and how that stuck with them. Brown didn't send his second team line out until the last gasps, and film review will be hell for them this week.
Donovan Peoples-Jones keeps receipts, and increases the volume of his hatin-ass touchdown celebrations weekly. He will fire the cannon if when he scores against Rutgers.
Chase Winovich keeps receipts, and will tell anyone that yes, that is our little brother, and yes, this is our revenge tour, and yes he very respectfully stole Trace McSorley's celebration and he's apologizing for nothing.
Rashan Gary keeps receipts. He keeps them on his face.
[Fuller]
Rashan Gary's mom keeps receipts. Some of you on the internet are in trouble.
So yes, this is a petty team. This is an angry team. This is a petty, angry fanbase with a petty, angry DJ. Nobody is apologizing for anything. Michigan is handing out receipts itself, because it's got too damn many to deal with right now. Hold some of these along with the L.
It is time to hear the lamentation of their message boards. It is time to belt out the chorus to "Smooth" at maximum volume no matter how damaging it is to the souls around you. We've sat in the dark plotting the downfall of celestial objects for too long to have any dignity about blowing up the moon.
Someone else can be angry for a time now. Someone else can sit in the black pit of negative expectations after one drive with Michigan players pouring through the line, seemingly untouched.
---------------------
The postgame handshake between coaches was brief and seemingly cordial, but afterwards James Franklin stopped and turned back to Harbaugh. Harbaugh was already jogging into the tunnel. Franklin stared a hole in his back for a good five seconds before turning back to the field, seething. It was like the end of Lost In Translation, if Bill Murray had said something that made Scarlett Johansson into a barely-contained ragebot.
I wonder what it was. I keep inventing pettier, crueler things. The exact content is irrelevant though, because the thrust is this: we regret nothing. We have many more receipts.
AWARDS
Known Friends and Trusted Agents Of The Week
[Upchurch]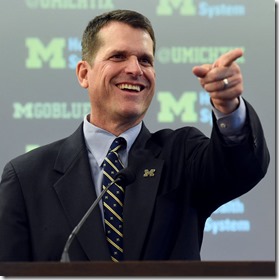 you're the man now, dog
#1(t) Chase Winovich and Josh Uche. Thunderous back-to-back sacks on Penn State's opening drive set the tone, and the pressure did not stop until they got pulled late. Winovich made PFF's team of the week, nationally, and Uche probably missed largely because of snap count. Two points each, made up and don't matter.
#2(t) Jon Runyan Jr and Ben Bredeson. Very little pressure from PSU's DL and Michigan mashed their run defense with a heavy emphasis on the left side of the line.
#3 Shea Patterson. Only 17 attempts but 144 yards and 2 TDs on those attempts, plus 10 carries for 50 yards. Seemed to get pull/keep decisions right the whole day, and juked a couple guys to pick up chunks.
Honorable mention: Karan Higdon had a Chris Perry kind of day. Shea Patterson had ups and downs but his legs are now a thing. (Don't tell any DCs about that.) The OL got another collective W.
KFaTAotW Standings.
10: Chase Winovich (#1 ND, #3 SMU, #1 NW, T2 MSU, T1 PSU)
5: Karan Higdon (#1 WMU, #3 Nebraska, #3 Wisconsin), Shea Patterson (#3 WMU, #1 Maryland, #3 PSU).
4: Devin Bush(#3 ND, #1 Nebraska), Rashan Gary(#2 WMU, #2 Nebraska), David Long(#2 Wisconsin, T1 Michigan State), Josh Uche (T2 NW, T2 MSU, T1 PSU), Jon Runyan Jr (T1 Wisconsin, T2 PSU).
3: Zach Gentry(T1 SMU, #2 Maryland), Juwann Bushell-Beatty(T1 Wisconsin), Jon Runyan Jr(T1 Wisconsin), Donovan Peoples-Jones(T1 SMU, #3 MSU).
2: Ambry Thomas (#2 ND), Josh Metellus(#2 SMU), Brandon Watson(T1 MSU), Lavert Hill(T1 MSU).
1: Will Hart (#3 NW), Mike Dwumfour (T2 NW), Kwity Paye (T2 NW), Khaleke Hudson(#3 Maryland), Ben Bredeson(T2 PSU).
Who's Got It Better Than Us(?) Of The Week
Brandon Watson intercepts a ball to absolutely no one, returns it for a TD, and puts the final nail in an already extensively-nailed coffin.
November 3rd, 2018: Brandon Watson intercepts the pass and returns it 62 yards for a TD against Penn State. pic.twitter.com/b59c4gQ0MR

— Michigan Moments (@UofMMoments) November 5, 2018
Honorable mention: Eight-play all-run TD drive to kick things off; Patterson finds DPJ on a throw that may indicate he's getting more comfortable; Uche and Winovich slash into the backfield; DPJ nearly brings back two punts.
​MARCUS HALL EPIC DOUBLE BIRD OF THE WEEK.
PSU escapes the shutout.
Honorable mention: Blocked FG momentarily provides PSU a touchdown. Uh… the end?
[After THE JUMP: chaos reigns]
OFFENSE
[Upchurch]
Ground and pound. Michigan endured a difficult middle section of the game where it seemed like Penn State had a couple of run blitzes that Michigan wasn't quite prepared for, but nonetheless sandpapered its way to 50-carry, 269 yard performance. The game was nothing if not a slow-motion avalanche where Michigan thonked a big boulder with increasingly large pebbles until it dislodged and chased James Franklin down the mountain.
I'd like to tell you this was a brilliant scheme brilliantly executed but Karan Higdon had a 50-yard run where he ran directly upfield because Koa Farmer buried himself in the line three gaps away from the play on a standard split zone. Soooo… yeah. There was a lot of PSU derp in the mix there. Still: averaging 5+ YPC when you're running 75% of the time is nothing to sniff at.
Jon Runyan Jr: Legitimately Good. Michigan gave up one sack, and that was at the end of the first half after James Franklin's very special timeout when Patterson gave himself up so the clock would keep rolling. There were a number of third and mediums on which Michigan was likely to pass, and passed, and Patterson was not under siege. The rollout touchdown to DPJ was a clean pocket on which Patterson's timer expired; if he'd stuck in the pocket he would have been fine.
Meanwhile M ground up PSU, mostly on the left side, and PFF is on board:
So, okay, Jon Runyan Jr gets to fight with Derrick Walton for biggest in-season turnaround in recent Michigan history. LFG.
[Upchurch]
Deep shots. Michigan complemented the ground and pound with the occasional bomb, all of which were successful.
Nico Collins caught a 47-yarder on which it seemed like the erratic, swirling wind may have thrown him off. He held up for a second and then extended to catch the ball; if he'd run under it confidently he had a shot at a touchdown if he could break a tackle from a panicking safety. The throw also could have been a few yards longer and still complete, carrying Collins away from the S entirely.
DPJ's touchdown was 23 yards and therefore not quite a bomb but it featured Patterson breaking the pocket and making a throw he did not make against Wisconsin a few weeks ago. The third deep shot was a touchdown to Black that got wiped off the board thanks to a (legit) Gentry holding call.
How many deep shots has Patterson outright missed this year? Is it zero? Probably not. But it feels like zero. He's left some a few yards short—deep shots to DPJ against MSU and in this game were broken up by a DB able to recover because the ball wasn't quite on point—but he's almost always given his receiver an opportunity.
The deep ball issue that does linger. Patterson's missing a couple opportunities a game to let it fly. A couple drives after the deep Collins completion he had another shot at a touchdown as Collins broke past the whole secondary; Patterson threw a checkdown that went for five yards. There are much worse things, of course. The regular "but that guy was WIDE OPEN" plays contribute to the sense that Patterson is this close to being a killer if he can only accelerate his speed of thought.
The quarterback cloaking device remains in place. Penn State did a bit better than previous opponents at containing the QB ground game; Patterson was forced into a couple of Forcier-esque jukes to rip off a couple of chunk runs. But not much better. DEs are still crashing hard on short yardage with no one replacing them. Michigan had a couple of slight tweaks to their zone read game that helped them out—one early pull had an inline TE outside of the DE who was eventually read, which is new—but it's still amazing to me that Patterson's being given free yards at critical junctures.
Evans: space weapon. Chris Evans was all the way back in this game, barely less utilized on the ground than Higdon (12 carries vs 20) and the recipient of three passes. One was a bonkers unintentional lateral that he was immediately tackled on; a second was Michigan paying off those inside runs that didn't make a ton of sense on the surface by running Evans into the flat as a WR walloped/brushed the LB in man coverage on him.
Evans caught the ball almost exactly on the LOS. If he's at or behind it, there's no OPI because that's a screen and you get more leeway. If he's beyond it the call is thorny. The WR was clearly slanting with an intent to disrupt the LB but the LB ran directly into him. In my "you have a right to your momentum" world where PI doesn't get called on underthrown balls that's completely fine. It was a direct hit on a guy in coverage, though, and could have gone the other way.
catching radius: helpful [Fuller]
Gentry RPO. Michigan brought out their second RPO of the season for a touchdown to go up 21-0, and then put it back in the garage. Have to figure they're going to run as much vanilla stuff as they can get away with over the next two weeks and save up a bunch of stuff for OSU. Given their defensive issues, which start at the linebacker spot, hopefully RPOs will be a big part of that.
Targeting roulette: eh, fine. The targeting call that DPJ suffered was overturned on replay and this was correct. The DB who hit DPJ led with the shoulder and did not make direct helmet contact; the hit was severe enough to whiplash DPJ's head back, drawing the symphony of flags. The play was a legitimate attempt to dislodge a ball that didn't happen to be there, and the DB did not in fact light up DPJ's helmet.
I am slightly encouraged by my ability to predict what a review booth will do with targeting calls these days. There seems to be an emerging consensus.
DEFENSE

why bother [Fuller]
Seven. The standout stat amongst many contenders in this game is this: seven carries for Miles Sanders. They tried a conventional inside zone on their second drive. It gained zero yards, and Penn State more or less gave up on the idea of running the ball without frippery attached. Since some of the frippery was the same wildcat look that didn't work at all last year after the first time they ran it*, that didn't go much better.
*[5 wildcat snaps with Barkley got 15 yards after they successfully duped Gary on the second play from scrimmage]
The long plunge. I had cause to revisit last year's defensive UFR to grab that stat about the wildcat gun snaps, and hoo boy is that a lot of Joe Moorhead giving Michigan the business: first the pass set from the LT that drew Gary way upfield, then a series of snaps that had Bush's head spinning by the second quarter, and the coup de grace: McCray covering Barkley on a fly route. McSorley hitting inch-perfect bombs against (mostly) well covered receivers was the rest of the ugly night.
It's hard to tell how much of the dropoff is Penn State losing Gesicki, Hamilton, and Barkley and how much is losing Moorhead. I think the latter is a big factor. At no point in this game did it feel like Penn State had that little tweak that got them a chunk of yards. Moorhead is a master of that finishing touch. The new guy not so much.
comin' [Upchurch]
The J.Uche idea: dang!  Josh Uche is tied for 17th nationally with 7 sacks. He has 11 tackles on the season. His average tackle is four yards in the backfield. He's  been on the field for… uh… 15% of Michigan's snaps? 20%? Virtually all of those are passing downs so he's probably been out there for 40% of opposing passing attempts, but there are so few of those that it's hard to rack up counting stats. On a per-snap basis he's got to be the country's most lethal pass rusher.
FWIW, Michigan jumps from 11th in standard down sack rate (8.6%) to first on passing downs (19.2%!!!). That rush package is devastating.
A brief period of sanity, ended. There was one window in this game where PSU was able to have quarterbacks drop back without being immediately crushed: the attempted two-minute drill at the end of the first half. Michigan didn't have its rush package on the field and the tempo locked some guys on. It felt like folks were a bit tired; PSU got to around midfield.
Don Brown decided he was no longer having any of that and dumped out a three-man line featuring a dual viper blitz from Hudson and Glasgow; Gary drove through an OL to flush McSorley into Glasgow.
[Upchurch]
Ball don't lie. Michigan picked up a very bad PI call on a play where there was mutual handfighting between Metellus and a PSU WR; Metellus got a PBU by being doinked in the helmet. The above floating ball snap was immediately afterwards. The universe has receipts, too.
Hamler neutralized. PSU hit a few slants to move the ball a wee bit but the bit where KJ Hamler dunks on you didn't happen. He had one catch for 20 yards. I'm not sure if the RPO slant to open things was man coverage for Hudson on which Freiermuth got out of tackling distance or zone that the RPO trashed, but I wonder why PSU didn't run a ton of those. "Here we go again" was a feeling I had for the briefest possible amount of football time after they hit their first one.
[Upchurch]
Trapped, again. Long's interception was trap coverage again. It was again difficult to tell whether the throw was affected by a DB suddenly popping up in a spot he's not supposed to be; the ensuing ball was catchable but a bit behind the WR and easy pickings once it popped into the air.
The caveat. Michigan's had some good fortune over the last couple games. Brian Lewerke and Trace McSorley were clearly not 100% but decided to tough it out anyway, possibly to the detriment of their teams. Both missed a lot of makeable throws. Those misses (except the Brandon Watson slip vs PSU) wouldn't have brought either QB up to even acceptable levels. They're still something to think about as we try to project Michigan's performance down the road.
Michigan has a top 5 pass defense, all caveats aside. It's not the nuclear bomb that the last three weeks imply. We should be prepared for Dwayne Haskins to complete a bunch of short stuff and have a generally efficient day. He's good enough to manage that.
SPECIAL TEAMS
Somewhat justifiable. Franklin taking the re-kick after Moody put a kickoff out of bounds didn't work out but was defensible since PSU had 38 yards of offense at the time. Hamler ripping off a big return was a possibility. No matter how good Hamler is it was a distant one.
Making that call was a statement that PSU's offense had no chance. Which was correct! But also I don't know if I'd make that call, because if you are correct you may as well walk off the field right then. The version of PSU with a chance to win the game should take it at the 35.
Slightly less justifiable. The major problem with Franklin's decision is that he didn't account for Ben Mason:
Everybody loves what @benchmason42 does on offense, but I just have a huge appreciation for the work he does on Teams! pic.twitter.com/EFZmITOPld

— Aaron Bills (@AaronBDesigns) November 4, 2018
I be like dang.
Sorting out the blocked field goal chaos. For one: on replay that does not look like it's Nordin's fault. The ball got up fast. Gentry failed to block the guy inside of him, instead futilely trying to block an edge guy that field goals generally leave unblocked because that guy can't get there in time.
Sorting out the penalties afterwards took a bunch of time. As near as I can figure:
Michigan's chop block personal foul happened before the kick, and therefore could be declined by Penn State because it had no corresponding pre-kick foul to offset.
Kicking the ball is a magic wand that resets the penalty status?
A Penn State guy dives at Mike Onwenu's knees in a way that is apparently illegal. They keep shifting the cut-block rules so my folk knowledge of NCAA rules isn't much good when it comes to evaluating whether that was accurate or not. (After Grant Newsome I think all diving at OL knees should be illegal.) This wipes out the return and PSU has to go 15 yards backwards from that spot.
PSU gets the 15 yards back because someone bumped a ref in the white paint during the return. This is a dead ball foul—or at least an off-the-playing-surface foul—so there's no offset. Penn State gets their 15 yards back.
I was annoyed that they were taking so long to figure it out but since it took me two days to come to this conclusion I don't have a leg to stand on in this regard.
A good try. The game theory stuff is in the next section. Here I'd like to mention Michigan's tricky realignment on a 4th and 7 punt from the PSU 35. M's line moved in unison, tightening up, in a way that was not a false start because none of the players in question had their hands on the ground. PSU's line twitched but didn't jump; it was a near thing. That was a good use of a stored-up Item.
[Fuller]
Peoples-Jones, slasher. I recant my previous take that Donovan Peoples-Jones wasn't a good fit as a punt returner. He was a little downfield luck away from returning Gillikin's two boomers for TDs. It feels like Michigan's approach on returns is more conducive to his strengths? He usually starts out wide and gets one of those run-by blocks that gives him the corner, and then the weaving starts.
MISCELLANEOUS
snaps missed this week: zero [Fuller]
Remarkably healthy. With the return of Tarik Black and Rashan Gary plus the semi-miraculous escape Juwann Bushell-Beatty had two weeks ago, Michigan now has every player on the two deep from the start of the season healthy unless Aubrey Solomon limping off late turns into a multi-week thing. The only unavailable players are two guys who made baffling midseason decisions to transfer.
Playing 1950s football. I thought Michigan's fourth down strategy was on point despite a couple of punts that would have driven me crazy in a less lopsided game. Michigan opted to futz around and kick on fourth and seven from the PSU 35—this turned into a punt from the 40 after a delay of game. They also punted on fourth and one from their own 45.
In a game where the field position you gain is likely to be wiped out in a few plays those would be terrible decisions. When your defense is clobbering like Michigan's was and you're up two touchdowns I'd rather minimize variance. Michigan was appropriately aggressive in the first half; it was only after they'd picked up a multiple-score lead that felt insurmountable that they made 1950s decisions.
FRAMES! It would be a sin to escape a PSU-Michigan game without James Franklin doing something boggling, and lo: PSU took a timeout with a minute left in the first half on fourth and 17. They could have run the clock down, taken the timeout then, and given Michigan under 20 seconds. That would have surely induced an immediate kneel-down.
Instead Michigan had a minute and change. PSU was able to make a play after they punted and then PSU's two timeouts dictated that the teams mutually agree upon halftime, but if Michigan gets a 15-yard chunk on that play they're on a one minute drill that otherwise would never have happened. The upside of that timeout: unfathomable.
This is why that David Jones column from last week was so mockable. What about James Franklin indicates that he's going overperform his recruiting unless he can hire Joe Moorhead 2.0?
Unified band show. The combined band show was pretty cool. Also it reinforced the blowout that is Carl Grapentine versus anyone:
The spot was bad, but in the wrong direction. Trace McSorley's slide resulted in a fourth and one and a punt. There was postgame grousing about that spot, but it went in the wrong direction. The rule is that as soon as you go into a sliding motion you're down, and McSorley started his slide about two yards short of the sticks.
HERE
Ace:
It's fully operational.

A hale and hearty Michigan took a stumbling Penn State squad behind the woodshed until they were sure there was no movement left, then added a couple more shots for good measure. Before the Nittany Lions' Sad Touchdown Drive, PSU managed only 111 yards on 36 plays, barely cresting a three-yard average—and needing that final drive against M's backups to avoid a rushing Rutger. The Wolverines bested PSU's total yardage on the ground alone, churning out 259 yards with the rushing attack.

They were a motivated group looking to avenge last year's defeat. James Franklin's decision to run up the score stuck with this team, and they didn't shy away from mentioning that motivation afterwards.

"We wanted to make sure to turn the intensity up so there was no coming back from that," said Karan Higdon, who accounted for 132 yards and a touchdown on 20 carries.
"I understand that Penn State tried to run up the score last year," Shea Patterson said. "... Our mindset was to play our game, and if we had the chance, we were going to run it up too."

Much as the first half was dominated by a comedy of errors from James Franklin, it was also clear from the outset that the Wolverines were, simply, better. After Michigan coughed up a 25-yard catch-and-run to Pat Freiermuth on the Nittany Lions' first play, Chase Winovich and Josh Uche proceeded to wreck McSorley with two straight sacks. That set the tone for the rest of the game.

The Wolverines were in the backfield constantly, buoyed by Rashan Gary's return. As a team, they finished with five sacks, six tackles for loss and a home inside Penn State's head.
Nine teams for four spots. Schadenfreude collected. The Shredder gets takes from an actual referee(?).
ELSEWHERE
Winovich makes PFF's national team of the week:
Chase Winovich, Michigan

Week 10 Grade: 89.8

Michigan dominated defensively, and Winovich was once again their best player. He notched seven pressures (one sack, six hurries) on only 21 rushes and he got in on one more stop as he played an efficient 34 total snaps on the afternoon.
Patterson graded out second in the Big Ten behind a big-time game from Adrian Martinez, and that's just passing grades.
Sap's Decals has the most Sap-like decal of ALL TIME:
UNIFORM CHAMPION – Earlier this week did you hear Penn State coach James Franklin call out Michigan's defensive backs for holding?  A classic coaching ploy to garner notice for the officials to look for it in the game. Michigan's reaction?  White gloves for everybody – not just the DB's – to blend in nicely with PSU's all white uniforms.

Watson delivers the White Glove service

For what it's worth, I noticed only one holding call on Michigan's DBs.  Details are important, at every level of the game.
MVictors. Bill C surveys the wreckage:
Name the stat category, and Michigan dominated it on Saturday.

Total yards: Michigan 403, PSU 186
Yards per play: Michigan 5.8, PSU 4.0
First downs: Michigan 20, PSU 11
Third down attempts: Michigan 8-for-14, PSU 2-for-11
QB play: UM's Shea Patterson was 11-for-17 for 144 yards, two touchdowns, no interceptions, and a single sack, and he rushed 10 times for 47 yards. PSU's Trace McSorley, banged up a week ago against Iowa, was 5-for-13 for 83 yards, two interceptions (one returned for a touchdown), and four sacks. He had eight carries for 22 yards. Yards per pass attempt: Patterson 7.7, McSorley 3.2.
Rushing: Michigan's Karan Higdon and Chris Evans had 32 carries for 189 yards. Penn State's Miles Sanders had seven for 14.

Penn State punted on five of its six first-half possessions and lost a fumble on the other. This was only a 14-0 game at halftime, but it was clear where this was headed.
Penn State recognizes Winovich on the field next to an explosive athlete like Paye. Naturally, the protection is going to slide that way, which is exactly what happens. As the front half of the line pays extra attention to Winovich, Michigan runs a pick-stunt with Dwumfour and Uche on the backside.

Dwumfour drives into his gap and creates a push, allowing the speedy Uche to whip around into the A-gap (center-guard) for a sack.

Michigan used this foursome in some form seven times on third down Saturday. It resulted in two sacks and an 0-for-7 third-down conversion rate for Penn State.
Michigan began to act like it was the Big Ten's bully, talking plenty of talk. But in outscoring the Badgers, Spartans and Nittany Lions by a combined 101-27, beating then burying all three teams, the Wolverines bully act stopped being an act.

Instead, Michigan just looked like a team that was pissed off, petty and ready for a championship.

"We wanted our lunch money back, we wanted them to pay interest," said defensive end Chase Winovich. "The bank's closed on Sundays, but it looks like we've got some deposits to make."
Wojo:
Ann Arbor — Michigan isn't hiding or disguising anything now. Its intentions are brutally, purposefully clear.

The Wolverines are on a no-mercy mission, and they're happy to hammer the point. Nothing fancy, nothing fake, they're coming after it. On offense, they're going to ram the ball right at the opponent until it wears down. On defense, they're going to attack the quarterback until he taps out.

They've dubbed it a revenge tour but it's grown into something more than that. Penn State was next on the list and the fifth-ranked Wolverines were ruthless, rolling to a 42-7 victory Saturday. Vengeance isn't necessarily the goal, but the means to achieve long-elusive goals, like a Big Ten championship and a spot in the playoff.
Players like Winovich and senior running back Karan Higdon were unabashed in admitting how they disliked the way last year's game against Penn State ended. They felt disrespected. Bullied. Embarrassed.

They weren't going to let that happen again. No way, not this year. And minutes into Saturday's victory, it became apparent that this game would turn out differently.
M up to third in S&P+. There are three tiers at the top of S&P+: a Bama(31.4)/Clemson(29.2) level, M/Oklahoma/and Georgia about four points back, and then ND/Fresno/UCF/OSU/Washington another four points back and counting.
Maize and Blue Nation. Maize and Brew. Maize and Go Blue. Someone should probably change the name of their blog. Hoover Street Rag:
Chase Winovich has said a lot of things.  He has said many many things that would be worrisome if he was not out there every play, backing it up, leading the posse like Kurt Russell's Wyatt Earp in the last hour of Tombstone, and riding herd like he knows the exact amount in his bank account so he can start writing checks all over the Big Ten.  I am sure that he annoys the hell out of the rest of the Big Ten and probably the country, but I don't care.  The guy who can destroy opposing quarterbacks but still take time to let the Drama Department know that he really enjoyed their performance of Sweet Charity, he's the Winovich, and we love him.
Michigan is in all the cofopoff predictions.  TTB. Marc Calcagno at the Daily.