Gravestone
11/25/2017 – Michigan 20, Ohio State 31 – 8-4, 5-4 Big Ten
[Bryan Fuller]
John O'Korn sat in a press conference on Saturday and broke down. He blamed himself, and himself alone, for Michigan's latest loss to Ohio State. And he was correct. I don't think I've ever seen a Michigan-Ohio State game so clearly decided by one guy's inability to hack it.
Previous terrible individual performances have been given in concert. The 2007 game featured Chad Henne without a throwing arm, but it also featured an offensive line that had to drag Alex Mitchell out of retirement midseason and the infamous picture that resulted. Nick Sheridan averaged 3.6 yards an attempt the year after, but nobody missed the forest for that particular tree as Michigan finished a 3-9 season with a 42-7 loss. And so forth and so on. The sad fact of the last decade of Michigan football is that when Michigan gets in a competitive game against Ohio State it's usually because someone is playing over their head.
This was different. This was Michigan feeling like the better football team except for one glaring black hole at the most important position on the field. The crowd felt the agony of this keenly with every errant pass or unnecessary sack. O'Korn was not booed, per se, but the desperate groans that issued involuntarily from the assembled masses were almost worse. There's a certain tenor of "ohhhawwww" a crowd can issue that is the pure, distilled sound of frustration. I have memorized this after Saturday, and find it replaying in my head whenever there's a spare neuron not playing Baby Signing Time songs. (This is rarely.)
Even after all those moans Michigan had not one but two shots to go ahead very late. Those ended with back-to-back throws that are burned into the retinas of every Michigan fan and will be replayed when "John O'Korn" is mentioned. Possibly even corn. Or Korn. I can't mention my Pandora station ever again on this website. Those throws were a fourth and four pass that went yards over the head of a screamingly wide open Chris Evans and an interception on which two Michigan receivers were open, and not within 20 yards of the ball.
That is O'Korn's football gravestone, chiseled, checked, and done.
O'Korn knows it, and wasn't going to offer up any bullshit platitudes afterwards. Say what you want about his play—although I can't imagine there's any excoriation in any language that hasn't already been delivered—but the guy did not shy away from the enormity of the thing that had just happened to him, a living, breathing human who has to go through the next sixty years introducing himself to people and hoping they've never heard of the most popular sport in America.
------------------------------------------------------------------------------------
At about the same time O'Korn was breaking down in public, someone logged on to this website and typed "fuck John O'Korn," into it, posted it, and then got a bunch of upvotes. A guy who started arguing with the various toxic manbabies in this thread that O'Korn was a virtually unpaid person thrust into a position he should never have been in was consistently downvoted.
After taking down several threads and banning a dozen people I yanked commenting for about a day. Naturally, this resulted in these same people fleeing to twitter to tell me it was PATHETIC that I COULDN'T HANDLE NEGATIVITY, because I didn't want them throwing their poop in a place I feel responsible for. And I didn't want to wonder what they were saying while I was doing anything other than commenting on Michigan football. Also, I hate them.
If you're one of these people reading this column I'd like to make it clear that there is something wrong with you. The vast majority of people who come to this site don't post on it, because it is like every other website in the world. Those that do are split between normal people with something to say, and you, the person too dumb to know you shouldn't say anything. You are a tiny minority of this fanbase that gets outsized attention because you're dumb and loud, and most people are willing to throw away the good parts of the comments because of you:
when should i bring the comments back

— mgoblog (@mgoblog) November 26, 2017
Next football season will not be like this, because you will be gone from this website. If you have any doubt in your mind whether I'm talking about you, yes, I am talking about you. If you're mad at Ace for saying the fanbase is the worst part of his job, I'm talking about you. Because he's not talking about 90% of the fanbase, he's talking about you.
No one needs to yell at John O'Korn, who clearly understands the implications of what just occurred in ways you do not. Nobody needs to say anything to John O'Korn ever again. Dude needs a hug and a Malaysian passport. And even though O'Korn just set a winnable Ohio State game on fire in a way that has probably never happened before or will happen again, I care a lot more about his feelings than some jabroni on the internet who doesn't have to introduce himself under his screen name.
That's it. There's no big sweeping theme here, nothing about the direction of this program or where this fits in the historical firmament. Just an incredibly obvious black hole...
Speight's transfer means that Al Borges *never* recruited a quarterback who finished his career as the starting QB at his original school

— mgoblog (@mgoblog) November 26, 2017
...and a bunch of people who are incapable of seeing it.
AWARDS
Known Friends And Trusted Agents Of The Week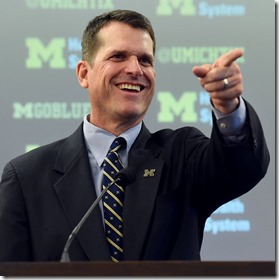 you're the man now, dog
#1 Rashan Gary. Finally got a little sack luck, as Devin Bush flushed Barrett to him on one of his two sacks. He added a third TFL amongst ten tackles, which is a very large number for a DE, especially because he missed a big chunk of OSU's first TD drive with a recurrence of the shoulder stinger (or similar injury) that he's been battling all season.
#2 Mike McCray. Eight solo tackles and two TFLs as McCray was a major factor in Michigan's ability to keep OSU to under 200 yards of offense until a late fade, none of which was on him. He didn't get edged, and managed to survive the return of Oh No Mike McCray On A Flanked Out Running Back without getting targeted.
#3(T) Chris Evans and Karan Higdon. Michigan's tailback duo had 165 yards on 28 touches, 5.9 yards a pop. Evans caught five passes as Michigan finally paid off on that preseason hype; Higdon was able to get the corner a couple times as well. If the offensive line can come together next year one or both are candidates to have All Big Ten season... or at least they would be if they weren't going to cannibalize each others' carries.
Honorable mention: Mo Hurst and Devin Bush turned in excellent performances; Michigan's cornerbacks again almost pitched a shutout, albeit with the aid of a couple drops. DPJ set up Michigan's second touchdown. Mason Cole had an edge two for one that sprung Crawford early in the third to get Michigan's third TD.
KFaTAotW Standings.
9: Rashan Gary(T2 Indiana, #1 Rutgers, T2 Wisconsin, #1 OSU).   
8: Devin Bush (#1 Florida, T2 Cincinnati, T2 Air Force, #1 Purdue), Mo Hurst (#1 MSU, #2(T), Indiana, #1 Wisconsin),  Karan Higdon (#1 Indiana, #2 PSU, T2 Minnesota, T3 OSU).
6: Mason Cole (#1 Cincinnati, T2 Rutgers, T3 Minnesota), Chase Winovich(#1 Air Force, #2a Purdue, T2 Wisconsin),
5: Khaleke Hudson (T2 Cincinnati, #3 PSU, #1 Minnesota), David Long (T3 Indiana, #1 PSU, #3 Maryland)    
4: Chris Evans(T2 Minnesota, #2 Maryland).   
3: Ty Isaac (#2, Florida, #3 Cincinnati), Lavert Hill(#2 MSU, T3 Indiana)), Josh Metellus (#1 Maryland), Mike McCray(T2 Air Force, #2 OSU).
2: Quinn Nordin (#3 Florida, #3 Air Force), John O'Korn (#2 Purdue), Sean McKeon(T3 Purdue, #3 Rutgers), Mike Onwenu(T2 Rutgers),
1: Tyree Kinnel (T2 Cincinnati),  Zach Gentry (T3 Purdue), Brad Robbins(#3 MSU), Brandon Watson (T3 Indiana), Ben Bredeson(T3 Minnesota), Donovan Peoples-Jones (#3 Wisconsin).
Who's Got It Better Than Us Of The Week
The entire first quarter? Yes, that.
Honorable mention: Oh man I should not have used up the whole first quarter before the honorable mention section. That was a real good first quarter. Oh: Kekoa Crawford
MARCUS HALL EPIC DOUBLE BIRD OF THE WEEK.
Of the two chiseled, checked, and done plays the Evans miss stands out since it was a wide open guy less than ten yards downfield.
Honorable mention: Various other things that happened when Michigan dropped back to pass. I could tell you about them, but you know. Metellus gets lost on two late drag routes. Watson misses a third and thirteen PBU. Nordin misses an XP.
[After THE JUMP: less than usual, i tellya]
OFFENSE
open guys everywhere [Fuller]
That gameplan, man. The number of wide open receivers Michigan was able to scheme truly boggled. McKeon on a wheel route in the endzone; DPJ running an out well past the LB's zone drops on a rollout; Hill in the flat a couple times; Ty Wheatley on the first snap as Michigan revived that double fake screen play from a couple years back; Evans on infamy play. Harbaugh and the offensive braintrust could not have given Michigan a better shot at this game.
There will inevitably be complaints about a run-pass ratio of 29:39, but I don't know, man. If you've given your QB a wide open guy to throw to a few yards downfield and he doesn't do it, I don't know what to do with that. O'Korn performance in this game was so far beyond even his bad performances earlier in the season that I don't think it's reasonable to gameplan around that. Or even if you can. OSU entered this game with the #2 rush defense in the country; it's highly likely that a heavy run, I-form big gameplan is worse than what Michigan managed.
The silver lining. That last interception gave us some insight into the details of the offense since the post-game discussion of it mentioned that Crawford had correctly cut off his route and O'Korn misread it. Michigan's using various option routes in their offense; I know that Michigan has varied between that NFL-style approach and a simpler paint-by-numbers scheme over the past decade. It's not a surprise that Harbaugh and Pep Hamilton are using the former. Another reason the WRs' youth was a big problem.
[Fuller]
Chris Evans, space merchant. After a rough first half of the season, Chris Evans had an outstanding close. Michigan got better at getting him the ball in space to operate and he consistently made the most of those opportunities. He was repeatedly able to edge Ohio State back seven players, and while those guys may be a bit iffy at reading defenses they're amongst the best athletes in the country. Evans thus established he is, too.
In this game he was able to set up Michigan's first touchdown by turning a flare screen into a first down on third and twelve. The playcall got him about seven of those yards as Evans's motions bought him a major lateral advantage on a guy trying to cover him in man; Evans was able to dodge that guy and spin through a second to convert and get down to fullback territory.
[Fuller]
Higdon was about as effective in his time; in the shot above he's just turned the corner on Jordan Fuller, that near five-star S out of NJ Michigan lost to OSU late a couple cycles ago. He's amply demonstrated his top-class athleticism late this season.
Full circle. Your right tackle for most of the second half: Jon Runyan Jr. This of course brings the position all the way back to where it was this spring, when Runyan started the spring game and was the presumed leader through most of fall camp. Nolan Ulizio emerged literally the last week before the season, struggled, and got replaced by Juwann Bushell-Beatty. JBB was a clear upgrade for most of the year but still seemed very iffy in pass protection; he was one of many Michigan blockers who met a brick, Badger-shaped wall last week.
Runyan seemed no worse, certainly, and I'd venture that most of the five sacks O'Korn took were on him for not getting rid of the ball. I wonder what happened in practice for the sudden switch and Runyan's move to guard. Any deficiencies Runyan had relative to the other guys were probably a mirage.
Ruiz is just starting? Onwenu got a couple snaps last week and warmed up like he was completely healthy this week... on the second team line. Cesar Ruiz continued to start at RG. He's played well for the most part but struggled against Wisconsin; I'm surprised that Onwenu didn't reclaim his job.
That's probably a distinction without a difference moving forward since Ruiz is as holy a lock to start at center next year and that should find Onwenu back in the starting lineup.
DEFENSE
[Fuller]
Backs broken late, as per usual. Ohio State started with 5 three and outs on 7 drives and had 126 yards of total offense halfway through the third quarter. From there: 78 yard TD drive, 47 yard FG drive, 34 yard missed FG, and a three-play, 66 yard TD drive that was a four-minute drill that got out of hand.
How much of that is Michigan getting tired and how much is a couple of individual bad plays and dumb luck in OSU's favor is in the eye of the beholder. The first TD mentioned above featured a third-and-thirteen conversion that Haskins threw into coverage, but Brandon Watson whiffed on his attempt to PBU. That's pictured above; it is just a dumb thing that happened. Haskins then broke the pocket and ran for 22 yards to set up the TD.
Both of the following drives saw Michigan give up a big chunk of yardage on a basic drag route that Metellus was unable to contest or even tackle on, thus setting up the field goal attempts. Then Michigan stiffened and got stops; it was enough to give the offense two shots at a comeback.
The insult-to-injury TD drive at the end was academic. And who wouldn't be out of fight at that point? Before that business at the end OSU had under 300 yards. That's enough for a Speight or Peters offense.
[Fuller]
FFFFFFFFFFFUUUUUUUUU. JT Barrett delivered the above ball directly to Josh Metellus, who read it and pulled off his receiver to go intercept the ball. He did not intercept it. OSU scored a couple plays later to turn 14-0 to 14-7; if Metellus clears the first level of defenders Barrett's probably putting him out of bounds at the 30 or 40 or even midfield. This is the standout play that coulda shoulda won the game even with the QB play.
Scrambles. Other than the Metellus drag routes mentioned above Michigan's biggest problem on defense was a bunch of man coverage against mobile quarterbacks and broken pockets. Mo Hurst was frequently very close to sacking the opposition but pushed just past the QB. At that point he's past the QB and there's a huge gap up the middle. Barrett and Haskins were both all but invited to rip off somewhere between 9 and 20 yards and did so. I don't think many, if any of these events were actually holds—unless we're using the "Ben Bredeson on a pull" standard the refs used against Michigan—but just Hurst gambling he could make a play and not making it.
The other main thing. OSU found its footing in the second quarter by using a lot of empty backfield runs for Barrett; most of these were QB power right at Winovich, who got washed down the line consistently. Michigan seemed to adjust after OSU's first two TD drives, or OSU just went away from it in anticipation of an adjustment.
A big play; a big bust. Khaleke Hudson had a monster TFL on the edge where he blew through two tacklers and all but ended an OSU drive in the first quarter. He also seems like the guy who blew an assignment on the wide open TE touchdown in the second quarter.
Michigan was in trap coverage. #7's job is to carry the #2 receiver "to the goal post." Blown assignment. https://t.co/odpenQ037D

— James Light (@JamesALight) November 25, 2017
OSU would come back to that later in the game and Hudson forced Barrett to try to fit it in a tiny window that he missed. Up and down day for Hudson, but that'll happen when you are starting a ton of underclassmen. Michigan's defense was good for one or two of those a game this year—thus their tendency to dominate opponents except for ten points worth of offense. 
[Eric Upchurch]
Ol' Woods. J'Marick Woods only made a cameo in this game since he was knocked out shortly after Kinnel was, but that was enough time to flash his talent, and establish why is non-nickname is "Woods," for Perd Hapley reasons. OSU broke JK Dobbins into the open field; Woods came up and stopped him dead at about six yards. I'd venture that nobody has been able to stick the slippery Dobbins like that all year.
He did something to his back while doing this and was thus unable to follow up on an impressive start. Still, he's had a few of those this year and nothing alarming in various snaps spotting dinged up starting safeties. He's on track to be a backup everyone's comfortable with next year and has emerged as the clear favorite to replace Kinnel in 2019.
SPECIAL TEAMS
For a small fee, I will be publicly skeptical about punt returns weekly. Just five dollars to see me humiliate myself on a weekly basis by asserting that Donovan Peoples-Jones shouldn't be returning punts.
Blocked extra point. Another missed XP doesn't exactly soothe #collegekickers concerns entering bowl prep.
MISCELLANEOUS
Let's get the ref bonin' talk right. I haven't had the stomach to go back over the game in detail yet; I've seen enough on the internet to think that yes, Michigan got absolutely boned by the referees. But let's get something straight. This item I've seen being passed around is not holding against the guy trying to block Hurst. At least, if I saw this called during a UFR I would be shocked:
Yep never gets held pic.twitter.com/rOAmSM7rmd

— Michael McGuire (@CoachMacBH) November 27, 2017
Hurst puts himself on one side of that OL and tries to get around him. OL is trying to block and suddenly has Hurst at a 90 degree angle; he's grabbing but ends up pushing Hurst upfield, past where he wants to go. You almost never see pushing called a hold. Pulling, yes. Pushing, even while grabbing a guy, is almost always legal.
HERE
With Michigan within striking distance in the 4th quarter, I saw people complain that Michigan went away from the running game. But if you look at the playcalls, that wasn't the case. After O'Korn got sacked and then completed a nice little screen to McDoom for the first, Michigan ran the ball for 9, 3, and 9 yards again. On the next play, O'Korn was trying to hand the ball off when he was stepped on by one of his linemen; that probably would have been for another first. On the next two downs Michigan threw the ball, but they still tried to engage the backs. Evans was wide open on that 4th down, and could have easily busted it for a big gain had the ball gotten to him. For the game, Evans led all receivers with 5 catches (3 if you ignore the last two on the final, meaningless drive), including a great catch-and-run in the redzone that set up Michigan's first score. Going forward, I hope the recent uptick in Evans's receptions (11 receptions in the last 6 games after having 3 previously) is a sign he'll provide that element to the offense going forward. And Higdon, despite some clear limitations due to lingering injuries, ran the ball aggressively and effectively. He should probably be the feature back next year, with Evans providing some change-of-pace plus good hands out of the backfield, and guys like Samuels and Walker grabbing carries as needed.

And credit should go to the offensive line's run-blocking efforts. That Wisconsin game looks more like an outlier than a harbinger of doom, as Michigan was able to get a consistent push against a talented OSU front. Like the rest of the team, they've made strides being legitimately good at opening holes for these backs, and while losing Cole will hurt that effort next year, we've seen enough from Ruiz, Onwenu, and JBB to have some confidence the interior of this line will be able to move bodies effectively going forward.
A look at some rebuilding seasons:
As Brian succinctly stated in his season preview, "This is a transition year between The Year and The Year, unless it isn't." And while many fans donned their maize-colored glasses in the preseason prediction threads, hoping for the lucky breaks to go our way en route to another 10-win season, the fancystats suggested that it was more likely to be a rebuilding year. Bill C. prognosticated before the season that "this program is probably a year away from ignition."

"They'll have to get lucky on a couple freshmen and one right tackle, but teams have been luckier. Just not Michigan." -Brian Cook

For innumerable reasons (some within and many out of the team's control), alllllllll of which have been very clearly hashed out on this site, this was, in fact, a rebuilding season. The issue now becomes whether or not this was a "successful" rebuilding season. The MGoStaff posed themselves the question "are we on track?" The answers ranged from "mostly, yes" to "of course, yes." Ace compared the roster this year to the projected one for next season and concluded, "This year hasn't been very fun. Next year will be."