Dayenu
Fight. Laugh. Dance. Live. [Marc-Grégor Campredon]
It would have been a good death, there at the water's edge. If the Red Sea hadn't parted, and the Egyptian army had mown down every Hebrew man, woman, and child on that salt-licked Levantine shore, maybe they would still tell the story, thousands of years of later, of the slaves who forced a Pharaoh to consent to their release. Other stories have made it as long of fewer slaughtered with the taste of freedom on their lips. Few gods had done more for their people than theirs had already done for them.
My people this week are celebrating what is objectively my second-favorite world holiday*. Passover is exactly what a religious festival would look like if a dadly nerd like me was asked to draw one up: a history lesson followed by family dinner under some thematic culinary restriction. And everything has meaning.
This annual dinner-lecture (we call it a Seder) has collected a bunch of narrative traditions in service to the primary function of educating the next generation of fans on the founding myth, i.e. Exodus. I'll spare you the Charleton Heston movie recap, and the super-abridged version I told on Saturday to get the Hebrews out of Egypt before tip-off. After the Red Sea climax the story speeds up to get this rabble of aimless refugees with slave's skills back to People status, and the way we do this traditionally is a folk song that Jewish kids learn before their vocabulary gets to 100 words.
It's called "Dayenu" (dye-AY-noo) which means "It would have been sufficient" but like all laconic bon mots it has a stronger meaning that implies listener and speaker both know the story, so it's also "We had matzah subs; it was crazy!" The intention of this one is really, you've done more than enough; how can I ever repay you? plus two drops of I can die now.
Each verse is a chronological event that takes us from slavery to freedom, for which God gets the credit, in a call-response.
If He had taken us to Mount Sinai and not given us the Torah?
DAYENU!
If He had given us the Torah but not shown us to Israel?
DAYENU!
So you're building gratitude throughout the song. Parting the Red Sea will already make every gimmicky top five best miracles in 10,000 years of podcasts; if the ground is muddy, zero complaints. (The ground isn't muddy).
----------------------
*[After y'all's idea to spread gifts and good cheer during the darkest week of winter]
[After the Jump: What would have been sufficient.]
We're no longer debating if these Michigan cagers are the chosen people of some powerful divine providence. Not after what they've left in their wake. An SEC team full of five stars who shot the defending champs out of the gym. A 7'4" rim protector. A 98-year-old nun. And a player so electric on the court that if you saw him on the street you'd run up and pump his hand and gush about how much respect you have for his game despite a hairdo that men of the West haven't worn since Osiris was huge.
And unless you play for this team or watch sports to get your fill of toughness soundbites, after all of this you don't have to pretend like you NEED anything more out of this year. This would have been a good death.
[JD Scott]
Penn State drew a single home play against Michigan that might have punched their ticket to the tournament, blew an epic comeback, and got routed to the NIT. There's your third-happiest team about this season. Nebraska failed to make good on their schedule win by getting blown out in the BTT. Maryland blew a signature road win and died at the hands of a higher usage version of the same imperturbable angel of death. When Andrew Dakich gets his graduate degree it's going in a box, a too painful reminder of the senior day he bought it with. Minnesota died when their one player did. Thus fared our preseason bunkmates.
Our great tormenter got it the worst. The rivals in chief—for this sport at least—came into the story with Egyptian talent, and are left having to ponder how their flawless god-king managed to screw up all but a barge trip down the Nile to win the Big Ten regular season crown.
MAC to the rescue? [Campredon]
To repeat how far this squad has come from that first open practice would belabor a point about Beilein teams that should have been apparent long before a day dawned that he could earn his 800th win. Maverick Morgan happened January 11, 2017. The team that lost to Charlotte over Thanksgiving could only be felled by the Harrisons of Kentucky and a Burkesque three in the Elite Eight. One time they went into the season with Zack Novak playing 84% of minutes at the four and Evan Smotrycz due for half the minutes at the five, and they still put a banner up in the toughest year in the Big Ten since I've been qualified to make statements like that. A lack of faith when things go pear-shaped in November is no longer a rational Beilein take.
took way to long to form one [Campredon]
And yet we need to establish how we got here to appreciate just how much appreciation the moment demands. Remember the laments of Maui, how we fretted the ravages of bad RPI scheduling made worse by the loss to LSU, and a Big Ten schedule with two unbeatable tourney teams and zero other resume assists? Remember we had to beat UCLA before we even talk about a road win at Texas? Remember when Holiday hit a three right out of the second media timeout of the second half to stretch the Bruins' lead to 15? Remember who hit two free throws to send it to overtime? Eli Brooks you guys!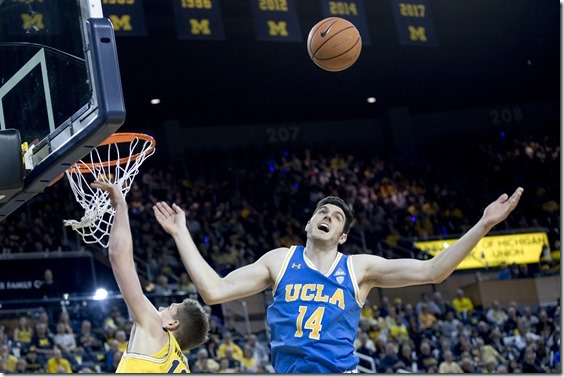 [Campredon]
Remember before you knew Ohio State was good, before Charles Mathews ever went left at the basket, or stopped on the way, or ever did anything else but play defense? Ask that version of yourself what a good death might be. And remember that your answer was something between "just make the tournament" and "just make a free throw."
It might have been when Livers, Poole, and Teske showed you a glimpse of next year while you hung your hat on how lucky Purdue felt to escape.
Or when MAAR caught a deep in from Livers on the inbound, tripped over two Terps, then turned his blood off.
Cool. pic.twitter.com/yGPt9QsLAx

— Seth M. Fisher (@Misopogon) January 16, 2018
If you made it that far you did better than this site, which declared official 2017-18 DAYENU! the moment Nick Ward's ankles didn't do what the ankles across from him just done.
The first thing I think about when any of those guys gets brought up is what could have been and was not. Nobody's fault. Just a thing. If "oh God what if DJ Wilson was on this team" didn't flash across your mind at some point during this week, you're a more serene man that I.

Anyway, Moe Wagner can go now.

Moe Wagner could announce he's leaving the team this afternoon and I'd be fine with it*. Moe Wagner induced the most beautiful and futile Michigan State floor-slap of all time from Nick Ward's face. My heart is as full of Moe Wagner as it needs to be, for all time.
Really, @moritz_weasley?!?!@umichbball is going to pull off the upset at No. 4 Michigan State. pic.twitter.com/TkfZs6Svfw

— Michigan On BTN (@MichiganOnBTN) January 13, 2018
Anything after double-digit dub at Breslin muppets would have been a fine death, knowing when the Spartans raise their inevitable conference championship banner nobody in Breslin will want to look at it.
As the Big Ten schedule compressed to buy back a week in Madison Square Garden, I downloaded the official phone calendar to keep track. It's a dangerous thing downloading that calendar, because it includes everything: the Big Ten Tournament, the NCAA Tournament…long after you're dead your phone will pop up reminders that your team should be playing, and the nature of competition is nearly everybody dies. It's World War III, where are your Hittites? Oh, right.
Michigan would show up for each alarm, but which Michigan? The one that ate a million beach balls from Minnesota on beach night? The one that couldn't hit the broad side of the barn against Rutgers (while holding them to one (ONE!!!) assist)? The one that stared blankly at Northwestern's zone, then did so again on the road? Or the one that shot Pi points per possession for a half in West Lafayette and lost because Purdue shot better? That's a hell of way to die. A Beilein way to die! Up against four griffons and a Giant Sphinx till your crossbows are melting! Dayenu!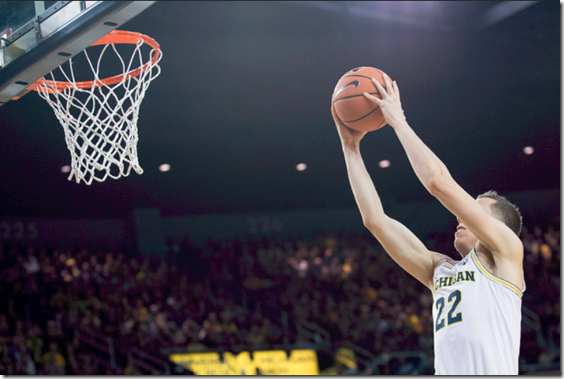 [Campredon]
It might surprise that version of you that not long after we starting watching Michigan move up the elite ranks of kenpom defenses. It won't surprise you-you that this happened when Zavier Simpson seized the starting job for good.
The "Pay that Yacklich man!" song coming from Crisler the latter portion of this season coincided with performances that differed in style, but not outcome. Dakich had his final possession of Senior Day at his undergrad court ripped away from behind and watched the resulting dagger through traitor's tears. MAAR took his no-turnover/high-efficiency game to new usages to crush Penn State on the road, accessorized up, and did it again.
Try to think back to when it started to dawn on you where this might go. When you even dared hope that this prince and his siblings might actually get you out of the OSHA-less pyramid scheme hell of life when your hopes are ne'er higher than what the next generation might have. Did you get that feeling?
Because I haven't. All this time you know what I've been thinking?
[Campredon]
Dayenu.
Dayenu.
Dayenu.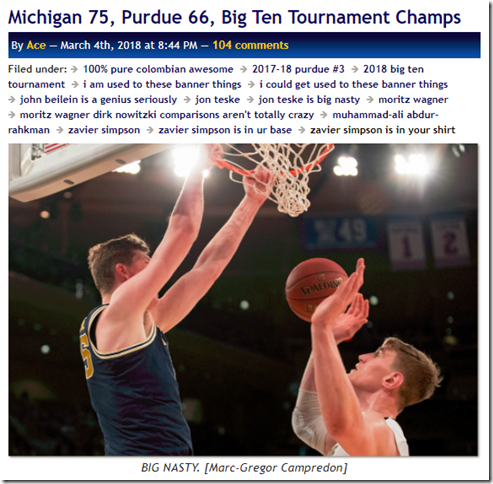 Dayenu.
DAYENU!
It could have ended any of these places, and somewhere along the way we have all made our peace.
[JD Scott]
But oh to live…
[JD Scott]
To wander the desert.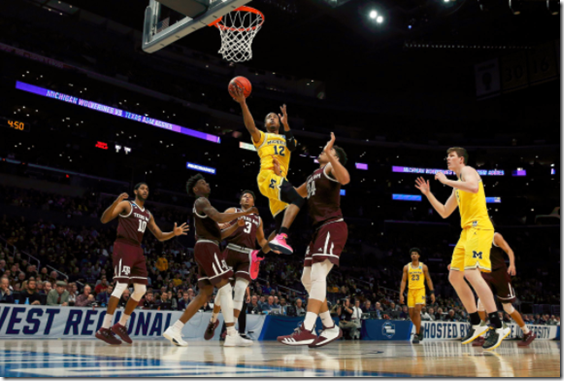 [Jae Hong/AP]
To scale a mountain.
[Patrick Barron]
To find out who we are and receive our mission.
[Bryan Fuller]
And see into the promised land. Whether we are to enter, or like Moses perish on the outskirts, I am so grateful for this moment and this team that has delivered way beyond our insufficient dreams. Whatever comes tonight, thank you Michigan basketball for a season for the ages. Go Blue, and Dayenu!