Basketbullets: Penn State
1/3/2019 – Michigan 68, Penn State 55 – 14-0, 3-0 Big Ten
The most concerning portion of the long December lull was the sudden permeability of the defense. Some weird guys hit some weird shots, sure, but the overall aura was ominous. It didn't feel like the same unit that caused a Yosemite Sam version of Roy Williams to resort to a hockey line change in the second half. It wasn't exactly bad, but the comedown from HELLO WE ARE MONGOLS AND THIS IS OUR HORDE was real.
Genghis and friends roared back with a 0.76 points per possession performance featuring 18 TOs and zero three pointers that didn't bank in. The tense, ugly first half gave way to the opening five minutes of the second when Michigan swarmed PSU for a number of turnovers and the ensuing transition buckets, opening up the 13 point cushion they'd finish with.
Michigan isn't a high pressure team that gets a ton of steals but they're pretty decent (100th) despite having a rock bottom foul rate; in this game everyone who played 10 minutes had at least one. They were locked in a slog of their own until their defense opened it up for them.
Michigan basketball: good. Also weird.
hello i must destroy you [Campredon]
Shorts: in them. Rasir Bolton's been a bit of a revelation for Penn State this year; with a quick release and some ability to drive he's been their most efficient player. Here: 0/3 from three and seven turnovers for an ORTG of 44. Zavier Simpson ate his lunch.
Michigan also drove Lamar Stevens to another high-usage, poor efficiency game: 17 points on 19 shot equivalents and three turnovers. Michigan doubled Stevens a lot early, which was weird to me and led to an easy look at the rim for their backup C. They must of thought he was the kind of black hole you can double with impunity. They weren't quite right about that but they weren't too far off: Stevens had just one other assist.
[After THE JUMP: some yelling, Jordan Poole doing Things]
Exit Pat Chambers. One dollar says that this is the beginning of the end for Pat Chambers at Penn State:
— Doug Dimmadome (@HaveYouSeenADog) January 4, 2019
Chambers apologized afterward but he's in year eight at Penn State without a tourney bid in sight. That unhinged behavior hardly seemed justified after a single defensive miscue from Dread during a first half when PSU was just as locked in as Michigan was.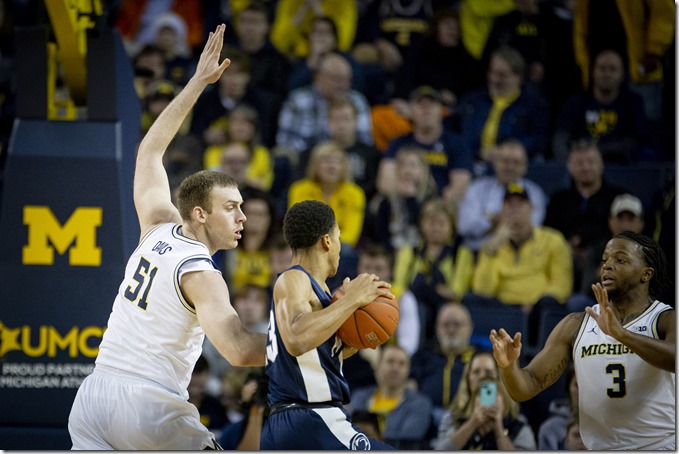 [Campredon]
Davis gets off the cart a little. Without Isaiah Livers, Michigan had to play Austin Davis whenever they pulled Teske off the court. (Brandon Johns got a couple minutes, but at the four.) Davis did fine. He was the recipient of that Jordan Poole assist and was able to make an extra pass to Charles Matthews for a dunk; he did not turn it over. His defense was annoying if not impactful; he forced Watkins to make a shot or two over him.
That level of play is encouraging to see; Michigan is going to need him to log some minutes against the burlier Cs in the league.
[Campredon]
Mercy. Jordan Poole had these back to back possessions:
He added a tough contested two, yet another foul as he shoots a three, and an improbable block as he kept Michigan a nose ahead in the first half.
Iggy issues. Brazdeikis had a number of straight line drives that Penn State ate up; Watkins blocked a couple and others were tough takes early enough in the shot clock. The second Watkins block was clear frustration on Iggy's part: Stevens had knocked him over for an easy bucket late in the first half; Iggy came down and threw up a wild shot that Stevens may have blocked; Iggy stole the ball from Watkins and then went one on three, with Watkins winning a post-up battle.
Bit of a welcome to college moment, but Iggy recovered in the second half, when he was efficient. Stevens was clearly pissed off at him the whole game; after a late and-one on a cut where he muscled it up over Teske he did Iggy's flex thing. Not sure if his wide array of questionable shots was because of that or just because that's how Penn State has to play this year.
Heavily contested [Campredon]
Watkins makes. Watkins went 8/11 from the floor with Jon Teske (mostly) on him. Aside from a putback or two all of those makes were contested, a couple very heavily. Only one was a certainly good shot; that came when Teske got dragged out on a pick and roll and Watkins was able to set up very deep.
Dererk "Not A Typo" Pardon did some work on Teske earlier in the year; this felt more like an anomalous number of iffy shots going down. Probably because I said Watkins doesn't have a lot of post-up game in the preview.
Strap in. There are going to be a lot of games like this. The Big Ten has a wide array of defensively-oriented teams with no point guard. Michigan's already played two of them (Northwestern and Penn State). Down the road they've got Rutgers, Wisconsin, Minnesota, another PSU game, and special guest Indiana—who will be without PG Robert Phinisee due to a concussion on Sunday. Gonna be some rock fights.
Livers status. He's a maybe for Sunday:
"He practiced fine yesterday," Beilein said, "but he woke up really sore today. He did three (therapy) sessions. It's back spasms. We'll get an MRI tomorrow and see where he is. But it was a game-time (decision). It really tightened up as the day went on. He was in therapy for three hours.

"Yesterday, and I probably wouldn't have mentioned it anyhow, but it wasn't even a concern to me at our press conference." …

"Being a guy who's had back spasms," Beilein said, "(Livers) probably won't be at 100 percent (on Sunday). But hopefully he can go because we just need the minutes there from that position."
In his absence Michigan went with 17 minutes from Brooks, 8 from Davis, and 2 from Johns. Livers is an especially good matchup for Indiana, which plays a lot of smallball. Hopefully he can get back.
Most people just buy a car. Savannah State head coach Horace Broadnax's midlife crisis is broadcast to all on Kenpom.
Three years ago his team went from a regular MEAC team to the most extra of all MEAC teams. They've also been the #1 team in 3PA%. And they won a share of the league title last year!
This has been your weekly "look at this weird MEAC team" segment.