Upon Further Review 2017: Offense vs Indiana
SPONSOR NOTE. I mean the unfortunate thing is that president of US soccer isn't even a paid position right now so a guy like Matt, who is very organized and on top of everything and is clearly a talented manager and would probably listen to me when I told him that he shouldn't hire a muppet to be the coach, couldn't swing it and his current day job at the same time. Because he's got to get you those mortgage quotes lickety-split, you see, and if he's trying to determine who's a soccer muppet and who is a human you will not get them with the speed he is accustomed to.
HomeSure Lending: simple mortgage guidance in the comfort of your own home. Where nobody can see you watching clips of the Landon Donovan goal with big ol' wet tears falling out of your face.
FORMATION NOTES. It was a manball outing, with 31 one-or-zero WR snaps. There were 23 two-WR snaps and 15 three-WR snaps, many of those on obvious passing downs. When not forced into WRs Michigan had an extreme preference for tight ends and fullbacks.
IU kept their safeties increasingly close to the LOS as the day progressed for obvious reasons. They did one weird thing with this gap in the line:
Their front was multiple, as they like to say, bouncing between even, under, over, and even some 3-4 stuff. They also had a few plays with a five-man line when they were trying to slow down Michigan's heavy sets. Here's Indiana in an under front with the FLAG OF DOOM waving: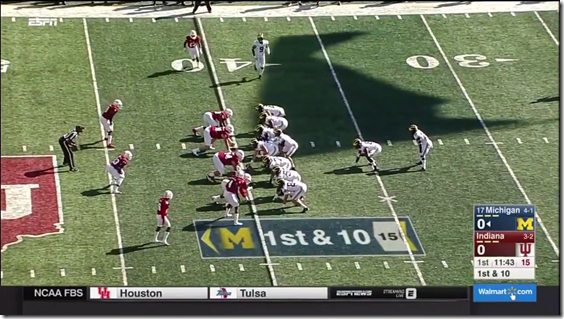 SUBSTITUTION NOTES. Thin rotation. O'Korn went the whole way at QB. OL was the new usual with Bushell-Beatty playing the whole way at RT. Hill and Poggi split FB snaps; no Mason. TE was mostly Gentry and McKeon, with a healthy number of Wheatley and Bunting snaps. Eubanks didn't play.
RB was mostly Higdon with Evans and Isaac making cameos; Walker got two snaps and one carry. WR was DPJ, Crawford, Perry, and some Ways. DPJ seemed to get more snaps this week.
[After THE JUMP: a unicorn!]