tl;dr - Kevin Wilson is B1G Football's version of John Beilein. He is adept at producing high level, offensively skilled ball players seemingly from thin air and then watching them wreak havoc upon unsuspecting B1G defenses while cackling with glee as he concocts a new fangled way to use screens. And also his defenses are notoriously bad. We need to start raiding his classes before he signs them. Also this Natee guy may be good.
This is Tyler Natee: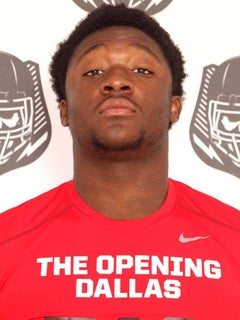 He is from Euless, TX and went to the same high school as Chris Daniels (Trinity) who you may remember as that DT from Texas we didn't sign not named Jordan Elliott. Trinity is in the 6A class of Texas High School football which is the highest in Texas and therefore the world. Level of competition questions do not apply. Natee is a RB/Wildcat QB for the Indiana Hoosiers. He had TWO D1 scholarship offers: Arkansas State and Indiana.
I found multiple listed sizes for Natee:
Random Local News Article (I didn't write it down and I don't feel like finding it again) - 5'10" 225lbs
Hudl - 5'11" 239lbs
ESPN - 6'0" 242lbs
Rivals - 6'0" 255lbs
247 - 5'11" 258lbs
IU Roster - 6'0" 260lbs
Scout/BTN - 6'0" 280lbs
So he is somewhere between De'Veon Smith and Maurice Hurst in terms of size which super narrows it down. His hudl and some IU related tweets list a 40 time of 4.69 and I've found other sources that go as high as 4.8. Usually I would look at those listed sizes, what should be a well scouted high school and that offer sheet and bury those times in a mountain of fakes. But...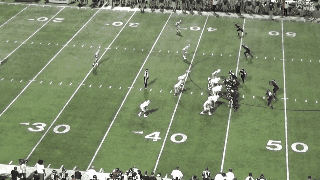 That's against Concord De La Salle (Asiasi) who was ranked #1 in the country at the time. (Full Game Link)
And here he is doing his best impression of De'Veon:
Here he is putting the whole team on his back. The other team:
Here he is dropping it in a bucket on a corner route on the run:
Here's his hudl:
In that is a better angle of the 44 yard TD run againt De La Salle(Full Game LINK). How the hell does this guy fly under the radar when he plays on the same team as a guy who had 30 offers and was seen on a nationally televised game?! This is what the satellite camps were supposed to prevent. iuhoosiers.com on how Wilson found him:
Natee was a hidden gem of sorts that Wilson stumbled upon by accident.

Wilson was in Texas asking coaches who the best player around was when he got the tip about a Trinity quarterback who's 6-foot, 260-pound frame was a hard sell to head coaches who didn't see him in person. Wilson didn't have that problem, seeing him play and realizing he wanted him for his 2016 class as a flexible fullback type rusher.
This kid would have really gelled with
Harbaugh's offensive philosophy
, it's a shame we missed him. Wilson continues to find diamonds in the rough on the offensive side of the ball:
| | | | |
| --- | --- | --- | --- |
| QB | RB | WR | OL |
| Tre Roberson | Tevin Coleman | Shane Wyne | Dan Feeney |
| Nate Sudfeld | Jordan Howard | Cody Latimer | Jason Spriggs |
| | Devine Redding | Ricky Jones | Jacob Bailey |
| | | Simmie Cobbs | |
Personally I think we should do a quick run through of all Indiana's offensive recruits every year to see if any are worth offers. This is also further evidence that if IU ever figured out how to play defense they would be a formidable foe in the East (why didn't they hire Don Brown?). Hopefully that day never comes.